EU: Heat Turned Up On Member States, U.S. Over CIA Prison Allegations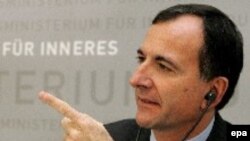 EU Justice Commissioner Franco Frattini (file photo) (epa) Pressure is mounting within the European Union for clear answers to allegations that the CIA may have operated -- or may still operate -- secret prisons where detainees are denied basic rights in European countries. EU Justice Commissioner Franco Frattini today repeated his earlier warning that any member states involved would be in violation of EU treaties and could face sanctions. While the Council of Europe is conducting inquiries in member states and candidate countries, the EU is turning up the pressure on the United States by seeking answers through multiple channels. However, Frattini said, there is no evidence at all yet to substantiate the allegations.
Brussels, 29 November 2005 (RFE/RL) -- The search for exhaustive answers to allegations that some European countries may be complicit in secret CIA prison projects continues to gather momentum.
Franco Frattini, the EU justice commissioner and a vice president of the European Commission, has made it clear sanctions await any member state involved in such an exercise. But, he also stressed in Brussels today, there is as yet no proof. He said that because of the very serious nature of the allegations, the search for evidence must go on.
"Because if true these allegations would constitute a very serious violation of the European Treaty. We cannot move without clear and transparent evidence," Frattini said.
Currently, the Council of Europe, an umbrella organization concerned mostly with democratic standards across the whole of Europe, has the only clear mandate to investigate.
Frattini said he is in close touch with Council of Europe Secretary-General Terry Davis. The commissioner said he has been told an inspection on the ground in Bulgaria had turned up no evidence. Frattini said other Counci of Europe teams are visiting a number of EU member states as well as candidate countries.
The EU itself, meanwhile, is turning to the United States for answers.
According to some reports, the EU's British presidency agreed last week to write on behalf of the bloc to U.S. Secretary of State Condoleezza Rice to seek clarification.
Germany's incoming foreign minister, Frank-Walter Steinmeier, will use his first official visit to Washington that started yesterday to raise the issue.
Frattini said today he has also asked his officials to raise the question with the U.S. authorities. He said it is a "paradox" that there is no single body in Europe empowered simultaneously to investigate the allegations and take action should they prove to be true.
"[There] is a strange paradox. The [European] Commission has no powers of investigation, but has the duty to [address] the eventual consequences in terms of violations of the treaty, Article 6 and 7," he said.
Article 6 of the EU treaty says the EU is founded on the principles of liberty, democracy, respect for human rights, fundamental freedoms, and the rule of law.
Article 7 says that in case of a persistent breach of these principles, the commission, the European Parliament, or a third of the member states can force a vote to strip the offender of "certain" rights, including voting rights. A majority decision would be needed.
While the Council of Europe has turned up no evidence in its investigations, the United States will neither confirm nor deny the allegations. Rice suggests in an interview with "USA Today" published today that in the war against terrorism ordinary rules of detention do not apply.
Rice will visit five European countries next week, among them Germany, Romania, and Ukraine. She will also attend a NATO meeting in Brussels.
As long as the United States withholds specific information, Frattini and the European Commission will have to rely on the Council of Europe. Frattini noted that that body, however, suffers from the other half of the paradox he described. "The Council of Europe has the power of investigation, but hasn't the power of [addressing] the consequences," he said. "That's why a very close cooperation is needed [between the Council of Europe and the European Commission].
Frattini said national prosecutors in EU member states may also have a role to play, as they have the powers to investigate specific allegations. He noted that a prosecutor in Spain is looking into reports that CIA planes carrying terrorist suspects landed on the island of Mallorca. However, he said, no direct evidence of any wrongdoing has been found.
Frattini said that Washington must be allowed time to "evaluate the situation" before responding to EU queries.