Preliminary official results, announced by the Central Election Commission on 5 December, gave the incumbent president 91 percent of the vote. His leading challenger, Zharmakhan Tuyakbai of the opposition bloc For a Just Kazakhstan, garnered a mere 6.6 percent. The commission put turnout at 6.7 million, or 75 percent of those registered.
'Free And Open' Or 'Unprecedented Violations'?
Observers' assessments diverged along lines familiar from other Commonwealth of Independent States (CIS) elections, with Russian-led CIS monitors hailing a free and fair ballot and the Organization for Security and Cooperation in Europe (OSCE) rendering a considerably more critical judgment.
Vladimir Rushailo, who led the CIS monitoring group, said of the elections, "We assess them as free, open and legitimate," RFE/RL's Kazakh Service reported. The OSCE's preliminary assessment, made available on the organization's website (http://www.osce.org) on 5 December, stated, "Despite some improvements in the administration of this election in the pre-election period, the presidential election did not meet a number of OSCE commitments and other international standards for democratic elections."
The candidates offered their own clashing assessments. President Nazarbaev called the election a vote for stability, unity, and modernization. Echoing the central theme of his campaign, he said, "Kazakhstan has voted for me so I can use this mandate in the next seven years to implement the reforms that I have planned, including the economic modernization of the country to help Kazakhstan become one of the world's 50 most competitive countries," RFE/RL's Kazakh Service reported.
Tuyakbai, a former Nazarbaev ally who split with the president after the September 2004 parliamentary elections, lambasted the authorities for "unprecedented violations of the constitution," RFE/RL's Kazakh Service reported. His campaign issued a bitterly worded statement warning that "the decision made by the authorities marks a new period in Kazakhstan's history, when the authoritarian system is openly transformed into a totalitarian one." But while Tuyakbai promised to file protests over violations, he seemed to rule out street protests, "Kazakhstan Today" reported. "We can, if necessary, bring thousands into the streets...but we have decided not to do this," he said.
Nazarbaev Above All
As the preceding suggests, the underlying reality the 4 December election symbolized is one in which Nursultan Nazarbaev bestrides Kazakh politics like a colossus. All views of Nazarbaev, from the most positive to the most negative, confirm his dominant position. In the former, he is simply beloved of 90 percent of Kazakhstan's population. In the latter, he is a malign mastermind capable of bending the electoral system to his will.
A compromise view would note a preelection poll by the U.S.-based survey group Intermedia finding 70 percent support for Nazarbaev, factor in some skepticism on the basis of a residual Soviet tendency toward political conformity, allow for the manipulations of the democratic process described in the OSCE's preliminary report, and conclude that while Nazarbaev would almost certainly have won a fully free and fair election, the political system he has overseen for the past decade 1) rendered an unblemished ballot unlikely, and 2) ensured long before the election began that the president would face scant opposition. In all three cases, Nazarbaev stands alone at center stage.
It is from his perch that Kazakhstan's long-ruling president will steer his country through the challenges ahead. The most familiar of these challenges is one that Nazarbaev has already negotiated with a significant degree of success -- managing Kazakhstan's transformation into one of the world's leading oil producers and exporters. As virtually every news report in the lead-up to the election hastened to mention, Kazakhstan aims to triple its oil production to 3 million barrels a day by 2015, securing it a place among the world's top 10 producers.
Nazarbaev has won praise for his handling of the energy sector, amid some brickbats for corruption, as a welcoming attitude toward foreign investors, adroit economic reforms, and high prices on world markets have combined to make Kazakhstan the envy of its impoverished neighbors.
Dangers Of The Energy Sector
A number of tasks loom on the energy-sector horizon. The first is the diversification of export routes, with pipelines to China and exports to the West through the Baku-Tbilisi-Ceyhan pipeline intended to reduce dependency on Russia. Nazarbaev has already proved himself adept at the "multivector" diplomacy required to balance relations with Russia, China, and the West, and while the next stage will surely test his skills, not only is there every reason to believe that he is up to the task, his dominant position in Kazakh politics will likely ease it for him.
The same cannot be said about another energy-sector task -- ensuring that the country's oil potential is used to encourage economic diversification with an eye to including as broad a swath of the population as possible in the windfall. A competitive and representative political arena would create natural pressures for taking such steps. An all-powerful president who faces no competitors of comparable stature, oversees a pliant legislature, and personally controls the appointment of virtually all top officials may certainly take the same steps.
But with benevolence the only guarantee that he will do so, the unquestioned leader may just as easily end up atop a pyramid of patronage, with the issue of succession gradually eclipsing long-promised political reforms as he moves into his twilight years.
Can 'Managed Democracy' Reform Itself?
The real question raised by Kazakhstan's election and Nazarbaev's 90 percent victory is, of course, that of political reforms. For his part, Nazarbaev has consistently promised gradual reform with an emphasis on economics above politics. Now, a paradox prevails. A basic premise of democracy is that, human nature being what it is, a genuinely competitive political system is the only way to keep politicians honest. The paradox in Kazakhstan today is that Nazarbaev's overwhelming reelection, however one explains its causes, demonstrates a lack of competitiveness in the political system, which, in turn, underscores that any impetus for reform will have to come from Nazarbaev himself, and not the system he has thus far labored to create.
The broader question concerns the general thrust of post-Soviet democratization. Political upheaval in Georgia, Ukraine, and Kyrgyzstan in 2003-05 highlighted the risk of catastrophic failure that comes with "managed democracy," in which ruling elites accept elections as necessary for legitimacy but do everything in their power to predetermine the outcome. But what happens when the system avoids catastrophic failure? Does it tend toward gradual reform? Or does it degenerate, ensuring ever more splendid victories for the status quo even as it undermines competitiveness and thus retains the risk of an eventual catastrophic failure?
Nazarbaev provided a clue to his own vision of the future in remarks he delivered in Astana on 5 December. Addressing his supporters, he said that he harbored no ill will toward the 9 percent of voters who cast their ballots against him, Interfax reported. "I know they have problems," he said, promising to "help them find jobs, supply drinking water, and protect our children and those not able to work." More to the point, the president affirmed his faith in the disgruntled 9 percent, as "Kommersant-Daily" reported. "I'm sure that in time these Kazakhstanis will support me as well," he said.
A Discussion Of The Kazakh Election
A Discussion Of The Kazakh Election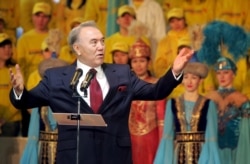 Kazakh President Nursultan Nazarbaev addressomg a rally of supporters on the day following the December 4 vote (epa)

DANGEROUS TO BE IN THE OPPOSITION: On December 8, RFE/RL's Washington office hosted a discussion of the December 4 presidential election in Kazkhstan. RFE/RL Kazakh Service Director MERHAT SHARIPZHAN and RFE/RL Central Asia Analyst DANIEL KIMMAGE participated in the discussion.
Sharipzhan highlighted the difficulties faced by opposition candidates -- including the untimely deaths of prominent opposition leaders -- and argued that they effectively chilled the political environment in the country. He also noted that the government repeatedly confiscated opposition newspapers during the campaign. However, he noted that Kazakhstan's relatively strong economy boosted Nazarbaev's popularity. Kimmage discussed Nazarbaev's pledge to proceed with democratization only after the economy is put in order, describing the political system in Kazakhstan as a form of "managed democracy."
Listen to the complete panel discussion (about 90 minutes):
Real Audio Windows Media



RFE/RL's complete coverage and background of Kazakhstan's presidential election on December 4, 2005.