The video of Al-Qaeda deputy chief Ayman al-Zawahri was reportedly made available on an Internet site used by militants. It has also been shown on Al-Jazeera television.
It was not clear when or where the video was made.
The whereabouts of bin Laden, who is held responsible for the 11 September 2001 terrorist attacks on the United States and other terror assaults around the world, is unknown. Some officials have said he could be hiding in the border regions of Pakistan and Afghanistan.
(Reuters/AFP)
Who Is Ayman al-Zawahri?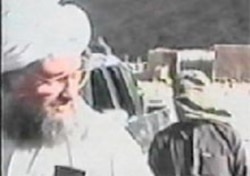 AYMAN AL-ZAWAHRI is regarded as Al-Qaeda's No. 2 authority. Although al-Zawahri is lesser known than Osama bin Laden, some observers say the deputy is just as powerful as the chief....(more)
See also:
Is Al-Qaeda Letter Sign Of Rift, Or Opportunity For Bush?