Prague, 7 December 2005 (RFE/RL) -- It took more than a year and a half to compile and involved the work of more than 70 experts from around the world. But the UN's new report, "Regional Cooperation for Human Development and Human Security in Central Asia," is finally here.
It's the first time the UN has brought together in one report the many interconnected challenges facing Central Asia, including poverty, governance, human security, trade, the environment, and politics. And while the report brings to many diverse strands of analysis, it's main message is that greater regional cooperation would significantly improve lives in a region where nearly half of the people live in poverty.
"Definitely, there are three countries now which are ready to cooperate: Tajikistan, Kyrgyzstan, and Kazakhstan. And there two other countries, Uzbekistan and Turkmenistan, which are not thinking seriously about regional cooperation," Poland's Jacek Cukrowski one of the report's co-authors, told RFE/RL from Moscow.
The regimes in Tashkent and Ashgabat may not be willing to open up their borders and liberalize their economies just yet. But Cukrowski said self-interest will eventually compel them to do so. "The benefits from cooperation are so high -- and this is shown also in our report -- that we expect that even if in the short run this group-cooperation scenario is the most probable, in the long run, we will have proactive cooperation of all countries of all of Central Asia, if not in all areas, then at least in selected areas," he said.
Overall, the report offers an optimistic look at the possible future. But it is also tempered by a dose of realism.
Indeed, among its many points and recommendations, the study says the countries of the region could more than double their per capita income over the next decade if only they could strengthen their regional cooperation in trade, transport, security, and culture.
That means creation of borders "with a human face" to allow people, including traders and laborers, to easily move around. Improved rail and highway links are also called for.
But the report also urges much greater regional cooperation on water and energy, as well as clamping down on drug trafficking and terrorism, improving environmental protection, health and education, and preparedness for natural disasters.
But cooperation should extend beyond Central Asia to neighboring countries such as Iran, Afghanistan, and economically booming China, the report says. "We expect that Afghanistan will develop in the next years," Cukrowski said. "And Central Asian countries can contribute to the development of Afghanistan. Especially in the case of Tajikistan, which has a common border and is a producer of electricity from hydropower stations."
The report brings together many disparate strands of analysis, policy advice, and technical support. Experts in such fields as water, energy, environment, trade, transport, health, economics, and politics have contributed. They have come from the local, regional, and national level of both governments and nongovernmental organizations.
Overall, the report offers an optimistic look at the possible future. But it is also tempered by a dose of realism. It notes that Kyrgyzstan's Tulip Revolution and the bloody events in the Uzbek city of Andijon in May have shaken the region to its core, and government response to these events will largely determine Central Asia's future.
The report lists three possible future scenarios: more political repression, some economic liberalization combined with continued strict political control, or gradual political and economic liberalization.
Which way will things go?
Cukrowski said that oil-rich Kazakhstan, together with Kyrgyzstan and Tajikistan, will slowly improve their cooperation -- and their economies. But asked about the dramatic economic and human progress the report says Central Asia is capable of, Cukrowski said, "We don't believe that, without changing political regimes, that real cooperation could happen."
UNDP Official Marta Ruedas
UNDP Official Marta Ruedas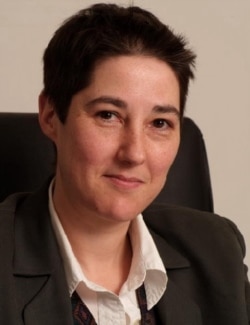 RFE/RL's Turkmen Service spoke with MARTA RUEDAS, the deputy director of the United Nations Development Program, on December 6, 2005.
Listen to the complete interview.
Real Audio Windows Media