An estimated 4 million Iraqis are able to cast their ballots from today until 15 December, the day when Iraq itself votes in the latest phase in the country's political transition following the ousting of former Iraqi President Saddam Hussein in April 2003.
Some 500 polling stations are located in Australia, Austria, Britain, Canada, Denmark, Germany, Iran, Jordan, Lebanon, the Netherlands, Sweden, Syria, Turkey, the United Arab Emirates, and the United States.
Speaking in Philadelphia on 12 December, U.S. President George W. Bush described the election for the 275-member assembly as another stage in the democratization of Iraq:
"This week's elections won't be perfect, and a successful vote is not the end of the process," Bush said. "Iraqis still have more difficult work ahead and our coalition and the new Iraqi government will face many challenges, including in four critical areas: insuring Iraqi security, forming an inclusive Iraqi government, encouraging Iraqi reconciliation, and maintaining Iraqi democracy in a tough neighborhood."
Iraq's Defense Ministry fears an upsurge in violence ahead of the 15 December voting and has therefore announced a number of security measures, including overnight curfews and the closing of borders and airports.
(AFP/AP)
Iraqi Election Poster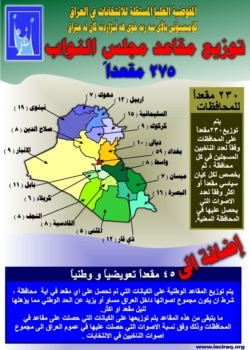 Click on the poster for an enlarged image.
The Iraqi Independent Electoral Commission issued posters in Arabic and the two dialects of Kurdish on the allocation of National Assembly seats by governorate for the 15 December National Assembly election. The poster says, "230 seats for the governorates, as well as 45 compensatory and national seats," while the corresponding map shows the breakdown of seats by governorate.
For more background on the election, click here .



For a complete archive of RFE/RL coverage, background, and analysis of the December 15, 2005, legislative elections, click here.