Prague, 17 December 2005 (RFE/RL) -- The meeting was meant to produce a plan to lower the barriers that hamper global trade.
But time is fast running out for a deal, as negotiators remain deadlocked over the thorniest issues -- ending rich countries' farm export subsidies, and boosting the exports of poorer nations.
With just one day left, U.S. Deputy Trade Representative Peter Allgeier put a brave face on the faltering talks.
"We have within our grasp in the next 24 hours the possibility of a very significant package of measures, decisions I should say, that would move us forward in meeting our objectives of unleashing the power of trade for development in the form of a successful Doha agreement at the end of next year, so the potential is there, as I said, it is just beyond our fingertips," Allgeier said.
The draft of the final declaration has agreed that rich countries must scrap their export subsidies for cotton next year, a move aimed at helping poor African producers.
Critics, however, say the talks have failed to reach their main aim -- setting a date for ending rich countries' farm export subsidies.
The draft suggested farm subsidies be eliminated in 2010, or within a period of five years, but both suggestions were inside brackets, meaning neither may be adopted in the end.
The United States and other countries wanted subsidies to end by 2010. But the EU objected. It says the United States and other rich countries must agree to reform their farm-export systems first. And it wants poorer countries to free up their markets for manufactured goods and services.
And there's also no progress on a plan to give greater access to exports for the world's least-developed countries.
Anwarul Chowdury, the UN high representative for these countries, warned that a failure to open up markets would throw the whole credibility of the talks into question.
"If nothing is agreed on the LDC [least-developed countries] package it will not only give a very wrong message that the negotiators have been so self-centered that they have forgotten the weakest part of the international community and also it will have an effect on the credibility of the WTO mechanism to [bring] the benefits of liberalization and free trade to the poorest. To be free, trade must be also be fair. Without that, I think it is meaningless to get into this complex set of negotiations," Chowdury said.
Meanwhile, police in Hong Kong used pepper spray and fire hoses to hold back hundreds of demonstrators from getting near the venue of the meeting. Demonstrators chanted "No to WTO!" as they marched toward the building.
A final accord must be wrapped up before the end of next year, or early in 2007, because after that U.S. President George W. Bush may lose his Congressional authority to negotiate trade deals.
But delegates in Hong Kong have some unhappy memories of their last ministerial conference. That meeting -- in Cancun, Mexico, two years ago -- collapsed in rancorous discord between developed and developing nations.
In Hong Kong, it appears that same split is looming.
(with news agencies)
WTO Status Of RFE/RL Broadcast Countries
WTO Status Of RFE/RL Broadcast Countries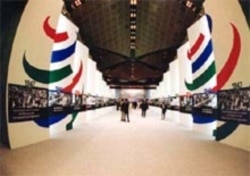 An exhibition of the history of the WTO in Singapore in 1996 (courtesy photo)

WTO Members:
Armenia: Joined on 5 February 2003.
Croatia: Joined on 30 November 2000.
Georgia: Joined on 14 June 2000.
Kyrgyzstan: Joined on 20 December 1998.
Macedonia: Joined on 4 April 2003.
Moldova: Joined on 26 July 2001.
Romania: Joined on 1 January 1995.
Countries That Are Not Yet WTO Members:
Afghanistan: Submitted its application in November 2004.
Azerbaijan: Submitted its application in June 1997.
Bosnia-Herezgovina: Submitted its application in May 1999.
Belarus: Submitted its application in September 1993.
Iran: Submitted its application in July 1996.
Iraq: Submitted its application in September 2004.
Kazakhstan: Submitted its application in January 1996.
Russia: Submitted its application in June 1993.
Serbia and Montenegro: Submitted separate applications in December 2004.
Tajikistan: Submitted its application in May 2001.
Ukraine: Submitted its application in November 1993.
Uzbekistan: Submitted its application in December 1994.
For more information, click here.
For an exclusive RFE/RL interview with former WTO head MICHAEL MOORE,click here.