Germany Pledges $14 Million For Chornobyl Maintenance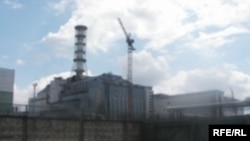 The sarcophagus of No. 4 reactor (RFE/RL) 29 December 2005 -- Germany pledged today to provide Ukraine with an additional $14.7 million to maintain the outer shell that protects contaminated remains at the Chornobyl nuclear site.
Environmental Minister Sigmar Gabriel said in a statement that Ukraine needs assistance in dealing with Chornobyl, the site of the world's worst nuclear accident 1986.
He said Germany has also called on Russia to increase its investment in the upkeep of the shuttered nuclear site.
Germany so far has contributed more than $70 million to efforts to maintain environmental security at Chornobyl.
(AFP)

RFE/RL Belarus, Ukraine, And Moldova Report

SUBSCRIBE For weekly news and analysis on Belarus, Ukraine, and Moldova by e-mail,
subscribe to "RFE/RL Belarus, Ukraine, And Moldova Report."