Syrian Parliament Demands Ex-Vice President Be Tried For Treason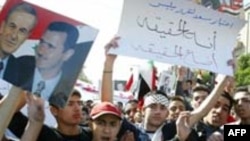 Demonstration in support of the Syrian government in the aftermath of the assassination of former Lebanese Prime Minister Hariri (file photo) (AFP) 31 December 2005 -- The Syrian parliament unanimously passed a motion on 31 December calling for former Vice President Abdel Halim Khaddam to be tried for treason after he implicated President Bashar al-Assad's regime in the assassination of Lebanon's former prime minister, Rafik Hariri.
The motion urged the Justice Ministry to bring Khaddam to trial. It was passed during a regular parliamentary session
during which lawmakers also accused Khaddam of corruption.
Syrian parliamentary deputy Umeima Faddoul accused Khaddam of treason and demanded that the former stalwart of Syria's ruling Ba'ath party face charges.
Khaddam, who resigned in June, made his allegations in an interview broadcast on 30 December on the Arabic satellite channel Al-Arabiya in which he declared a formal break with President al-Assad, citing corruption within the regime and its failure to reform.
Khaddam said Hariri, who was killed in February 2005 in a bomb blast in the Lebanese capital Beirut, had received many threats from Syria, and that al-Assad had addressed "extremely harsh words" at Hariri in a 2004 meeting in Damascus.
An ongoing United Nations investigation has implicated Syria in Hariri's death. The Syrian government has denied any involvement.
Syria withdrew its troops from Lebanon after a quarter-century as a result of the international uproar that followed Hariri's murder.
(AFP/AP/Reuters)