Polish President Hopes For Improved Ties With Russia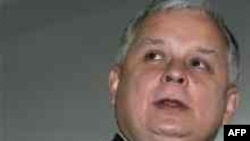 Polish President Lech Kaczynski (file photo) (AFP) 1 January 2006 -- Poland's newly-inaugurated President Lech Kaczynski used his first New Year's address to the nation to say that he hopes Poland's strained ties with Russia will improve significantly.
Kaczynski, a former anticommunist dissident, has often used tough language about Russia.
But he said in his televised address that he hoped the time would come for what he called "a significant transformation" of Poland's ties with Russia.
(AP)
RFE/RL's World: 2005 In Pictures


A slideshow of images related to the top news stories of 2005 from throughout RFE/RL's broadcast region with links to RFE/RL's reporting.
See also:
2005 In Review: Central Asia Witnesses Revolution, Continued Crackdown
2005 In Review: Does The Presence Of Western Election Observers Make A Difference?
2005 In Review: The Geopolitical Game In Central Asia
2005 In Review: Migrants, Refugees Victims Of Incoherent Laws In Post-Soviet States
2005 In Review: The Transformation Of Television In Russia
2005 In Review: Russia's Centralization Gathers Pace
2005 In Review: A Year Of Hopes, Disappointments For Afghans And Iraqis