Syria To Try Ex-Vice President For Treason, Corruption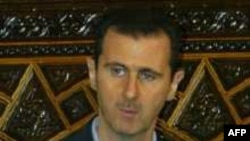 Bashar al-Assad's government is under increasing international pressure (AFP) 2 January 2006 -- The Syrian government says it will try on high-treason charges a former vice president who has accused Damascus of involvement in the assassination of former Lebanese Prime Minister Rafiq Hariri.
The announcement was made today by the official daily newspaper "Al-Thawra," which also said the government will investigate Abd al-Halim Khaddam for corruption.
Khaddam has charged that President Bashar al-Assad threatened Hariri months before his February assassination in Beirut. He is now living in Paris after resigning in June.
Also today a UN commission probing Hariri's killing said it has asked to interview Assad and Foreign Minister Farouq al-Shara, and is awaiting an answer from Syria.
An official with the country's ruling Ba'ath Party, Ahmad Haj Ali, told dpa he believes Assad will not respond to the request.
Damascus has denied any role in the assassination.
(AFP)