Sharon In Critical But Stable Condition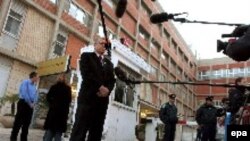 Shlomo Mor-Yosef, director of the hospital where Ariel Sharon has been placed in an induced coma, speaking to reporters (epa) 6 January 2006 -- Israeli Prime Minister Ariel Sharon is in intensive care in a critical but stable condition after undergoing seven hours of surgery to treat a life-threatening brain hemorrhage.
Doctors have placed the 77-year-old leader in an induced coma and say they will try to revive him in 48 to 72 hours.
It is Sharon's second stroke in just over two weeks.
The director of Jerusalem's Hadassah hospital, Shlomo Mor-Yosef, told reporters yesterday that the prime minister's brain appears to be functioning normally and that he is not in a vegetative state.
"Mr. Sharon is under sedation, anesthesia and ventilation. This is the main treatment he receives and the purpose of this treatment is to reduce the intra-cranial pressure in the prime minister's brain. This treatment will last for the next 48 to 72 hours."
But there are increasing concerns that he may have suffered brain damage and doctors say it is unlikely he will be able to resume his duties.
Political authority has been transferred to Deputy Prime Minister Ehud Olmert. Government officials said the general election will go ahead as scheduled on 28 March.
U.S. President George W. Bush, Russian President Vladimir Putin, and British Foreign Minister Jack Straw have sent messages of support to the ailing leader.
(agencies)