Saudi Arabia: Millions Of Pilgrims Gather In Mecca Amid Heightened Security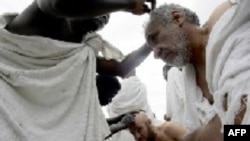 Pilgrims prepare for the hajj (file photo) (AFP) At least 2.5 million Muslims are expected to attend this year's hajj, which officially begins on 8 January. More than 1 million people are already in Mecca, the holiest city in Islam and the main site of the annual Islamic pilgrimage. The hajj is the most serious challenge faced by Saudi authorities each year in terms of security and logistics. This year's ritual has already been marred by tragedy, when an aging hostel collapsed in Mecca on 5 January. More than 50 people were killed and many more injured.
Prague, 6 January 2006 (RFE/RL) -- Pilgrims who have already arrived in Saudi Arabia are wearing the "ihram," a garment made of two seamless white sheets or towels, symbolizing purity and equality. Many female pilgrims wear a simple white or black dress and cover their heads.
During the hajj, pilgrims may not cut their nails, shave, or wear jewelry. They spend a lot of time praying as they prepare to start the hajj rituals.
Every Muslim leaving for the hajj submits his or her life to God, with the realization that they might not return. The rituals of the hajj, although spiritually fulfilling, are also physically challenging.
The hajj comes as a serious test for Saudi authorities, too. They have to provide food, shelter, sanitation, and security for as many as 4 million people, considered to be the largest gathering of humanity on Earth.
The hajj has been the scene of many disasters, such as stampedes and fires. There is also the possibility of disease to contend with, such as meningitis, and the threat of violence.
This year's hajj has already been marred by tragedy. A hostel in Mecca housing foreign pilgrims collapsed on 5 January following a fire. "The building started to collapse from the top. It collapsed on the street," one eyewitness said. "The building covered the entire street, and the pilgrims who were there. After the building collapsed, there was a lot of dust everywhere, and people were screaming. After less than one minute, ambulances began arriving at the scene."
At least 53 people died and some 60 were injured. Others may still be trapped in the rubble of the 30-year-old building, which was reportedly housing more pilgrims than it was suited for.
The swift response of the authorities came amid a massive deployment of security and civil defense personnel. It's all in a bid to prevent any repetitions of previous tragedies.
This year, Saudi authorities have deployed 60,000 security-service officers and 10,000 civil-defense personnel, in addition to 3,000 medics and 10,000 firefighters.
Faisal Ali, an editor with "Arab News," Saudi Arabia's main English-language daily, told RFE/RL that the security measures are the largest of any previous hajj.
"All preparations have been made, and about 60,000 police personnel have been posted in all of the three holy places of Mina, Arafat, and Muzdalifah. And what we have seen on the ground is that the government has taken all precautions to avoid any untoward incident, and that they are able to cope with any untoward or any emergency situation," Ali said.
Stampedes have been the biggest killer at the hajj. More than 250 people were killed in a stampede in 2004, and almost 1,500 were trampled to death in 1990. The stampedes often start when surging crowds trek from one station of the pilgrimage to the next.
The stoning of the jamraat, or the three pillars symbolizing the devil, is considered the area most susceptible to such tragedies. Last year, the pillars were made wider to facilitate the stoning.
Faisal Ali said the area around the pillars has been further improved this year. "Again, what they have done this year [is] that they will [block] all types of squatters and shops and workers from the site of the stoning place. And nobody will be allowed, other than pilgrims, to go to that site. And no buses, no vehicles, and no shops have been allowed in that area to ensure a smooth passage of pilgrims from one place to another to stone the jamraat."
The country's authorities caution that any such mass gatherings are inherently dangerous and difficult to control, but they say they are taking a number of steps to prevent problems.
One of the biggest steps has been a new system of registration and travel visas to control the flow of pilgrims. The new system is designed to encourage and accommodate first-time visitors to Mecca, while imposing restrictions upon those who have performed the hajj several times. Pilgrims who have the means and desire to go on the hajj more than once have protested what they see as discrimination. But the Saudi ministry in charge of the hajj says there is no alternative if further tragedies are to be prevented.
Saudi authorities also set a deadline for the arrival of pilgrims. This year, the deadline was midnight on 4 January.
Rafiq Qori Kamoliddin is a hajji himself and an organizer for pilgrims in Kyrgyzstan. He told RFE/RL that this measure is necessary not only for security but also for the spiritual state of pilgrims.
"Every year, three days before the hajj begins, ships, planes, and buses are stopped from entering the country. On the eighth day of the month of Zul-Hijjah, hajjis have to walk to Mina and pray there five times a day. The next day, they have to be in the plain of Arafat. If travelers don't arrive a few days earlier and are too tired, they may not be able to complete their hajj. Therefore, the measures of the Saudi authorities are good, and we should comply with them," Kamoliddin said.
Security has also been heightened at the country's border with Iraq to prevent the possibility of militant attacks.
Saudi Interior Minister Prince Nayef Bin Abd al-Aziz said this year's measures are "sufficient" to provide for the security of all "guests of Allah."