A spokesman said the EC will also back requests to obtain EU satellite images and flight records concerning alleged CIA flights that may have carried detainees to or from the camps.
The council is due to present its findings by the end of the month.
Also today, the Swiss Defense Ministry announced it was launching an internal investigation into the publication of secret documents relating to the alleged CIA prisons.
A weekly Swiss magazine published the contents of a fax -- supposedly from Egyptian Foreign Minister Ahmed Aboul Gheit -- that said the Egyptian Embassy in London had determined that the United States was running detention centers in Romania, Bulgaria, Kosovo, Macedonia, and Ukraine.
(dpa/AP)

Who Is Ayman al-Zawahri?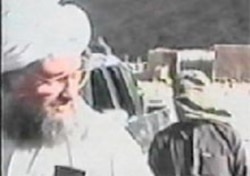 AYMAN AL-ZAWAHRI is regarded as Al-Qaeda's No. 2 authority. Although al-Zawahri is lesser known than Osama bin Laden, some observers say the deputy is just as powerful as the chief....(more)
See also:
Is Al-Qaeda Letter Sign Of Rift, Or Opportunity For Bush?