Prague, 11 January 2006 (RFE/RL) -- Freezing temperatures across northern Pakistan and Kashmir now threaten the lives of more than 2 million earthquake survivors who have been living in tents or crude shelters since October when a 7.6-magnitude quake destroyed their homes.
As Muslim worshippers sacrificed livestock for today's Eid Al-Adha feast, northern Pakistan was struck by another earthquake. The 5.1-magnitude tremor served as a grim reminder of the tragedy that has affected so many in the region.
Abdul Majeed, a retired government official from Pakistan-Kashmir's capital of Muzaffarabad, says the mood this year is far from festive. "You only celebrate Eid when you are happy," he says. "How can you celebrate Eid after such an earthquake? When you are constantly worried that there is going to be another quake at night? There is no security about life any more."
Eid Al-Adha concludes the hajj pilgrimage to Mecca and is celebrated by Muslims worldwide. It commemorates a story shared by Islam, Judaism, and Christianity about the readiness of Ibrahim (Abraham) to sacrifice his son as a test of his faith in God. According to the religious texts of the world's three largest monotheistic religions, God substituted a sheep for the sacrifice at the last moment.
For Muslims around the world, Eid Al-Adha traditionally is a time of giving and sharing -- a happy time for families to celebrate together and exchange gifts of clothing. It also is celebrated by congregational prayers and by the giving of alms to the needy.
In Kashmir, Muslim women usually dye their hands with henna during Eid. They also buy bangles, jewelry, and bright clothing for themselves and their children. But in Muzaffarabad this year, there are few signs of the colorful glass bangles or intricate henna patterns that usually form such a visible part of the Eid holiday.
Many earthquake survivors in Muzaffarabad lost all of their possessions beneath the debris of their collapsed houses.
Sahibzada Mushtaq Hussain is a shopkeeper in the city who tried to repair his quake-damaged business with government aid that was meant to help him rebuild his home. He says he had hoped to boost his income by being ready for a burst of shopping activity ahead of this week's three-day holiday. But now he says he should have used the money to repair his house instead.
"If people have something [to spend] they will celebrate. But these poor people who have nothing, how can they do so? You can see that there is no sign of festivity in the market. People's faces are cheerless," Hussain says.
Conditions in Muzaffarabad and the surrounding mountains remain grim more than three months after October's deadly quake. Many residents have been forced to take refuge in tents or to patch together makeshift shelters from the rubble that had been their homes.
A cold spell this week has blanketed highland areas with snow and drenched the crowded tent camps in the lowlands with icy rain. The exceptionally cruel winter weather is adding to the miseries of impoverished earthquake survivors.
Azra is a housewife from Muzaffarabad who lost family members and was made homeless by the quake. Like most shoppers seen shuffling thru Muzaffarabad's partially repaired bazaars this week, Azra says she only went shopping to buy her family woolen clothes for the bitter winter.
"There are no signs of Eid," she says. "But today the children were clamoring to celebrate Eid. One has to do something for the sake of the children."
Speaking beneath an all-black chador, Kashmiri housewife Mufti Shafiq laughs mirthlessly when asked to compare the mood of Eid this year with the celebrations of the past. "Don't ask about that [kind of Eid celebration in the past]," she says. "When those Eids came, old and young, adults and children all bought eight to ten suits each. Today we are barely managing a single suit per person. And that, too, with great difficulty."
Madiha Mobashir, a college student from the capital of Pakistani Kashmir, searched Muzaffarabad's ramshackle markets this week for a pair of decent shoes to protect her feet from the snow. "We have not made any preparations for Eid because of the earthquake," she says.
But 17-year-old student Nazia says the grim mood cannot last. Watching her younger brother trying on a new pair of winter shoes, Nazia explains that she lost a sister and several classmates to the quake. "We cannot sit mournfully forever," she says. "We have to live our lives somehow. But we can never forget what happened to us as long as we live."
The Hajj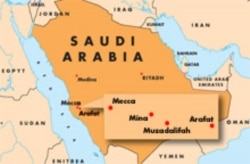 Click on the map for an enlarged image.

THE HAJJ: Every year, Islamic pilgrims converge on the Saudi holy city of Mecca for what is considered to be the world's largest single gathering of human beings -- the annual hajj pilgrimage, the fifth and final pillar of Islam. Hajj literally means "to set out for a place," and every able-bodied Muslim with the means to do so is expected to make the pilgrimage at least once in their lifetime, traditionally after first settling all their wordly affairs...(more)