Prague, 13 January 2006 (RFE/RL) -- They filed one by one into the morgue, hundreds of pilgrims anxious to find out if their loved ones were among the victims.
"Yes mother, he's dead," one man sobbed into his mobile phone.
This is the aftermath of the worst tragedy to hit the hajj in more than 15 years.
More than 360 people were crushed to death as they hurried to get onto a bridge near Mecca for the last rite of the hajj -- the stoning of three pillars representing Satan.
One man, now in the hospital, told of his lucky escape: "Near the bridge there was pressure, pressure, pressure until I found myself under enormous pressure and standing with people underneath me. I felt sad that I was stepping on them and was trying to help them stand up again but I couldn't. Suddenly, I was surprised -- about 20 or 30 people were lying down and I was on top of them. I tried to pull myself but I couldn't. I refused to surrender and tried to crawl until I reached the security."
The Jamarat bridge is no stranger to this kind of tragedy. The site, in the desert plain of Mina outside Mecca, has seen deadly incidents in seven of the past 17 years, including a stampede in 1990 that killed nearly 1,500 people.
In recent years, Saudi Arabia has made efforts to make the stoning ritual safer. The pillars representing the devil have been made wider, so that people stoning them do not have to crowd so close together. And a two-level bridge has been built to channel the stone throwers past the pillars in an orderly way, with emergency exits provided.
But the latest tragedy has led many to criticize Saudi authorities, saying the ritual still needs better organization and security. Officials and others, however, have blamed pilgrims themselves.
"The majority went on that bridge and unfortunately carried their luggage to that bridge thinking it was easy as it was on the first and second day [of the ritual]," said Mahmud Ahmad, an editor with "Arab News," Saudi Arabia's main English-language daily. "And according to some eyewitnesses that I interviewed, some people their luggage fell down and some people tripped over it and it caused so many people to fall down. Once you fall down you can't stand up because the area was very crowded and people were stepping over each other and that's what caused the tragedy."
Ahmad said that there's not much authorities can do if pilgrims themselves aren't following safety instructions. His paper has called for pilgrims to attend courses at home so they know what to do when they come on the hajj -- and to make such courses a condition for hajj visas.
Whether that happens or not, authorities are already planning improvements to make the bridge safer. The changes will see a new four-level structure with 12 entrances and exits. And there are plans to bus pilgrims to Jamarat from a nearby tent city, rather than allowing them to make their own way.
Good news for future visitors -- but sadly, too late for hundreds of hajj pilgrims.
(compiled from agency reports)
The Hajj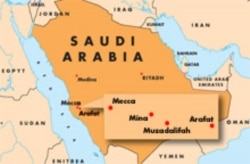 Click on the map for an enlarged image.

THE HAJJ: Every year, Islamic pilgrims converge on the Saudi holy city of Mecca for what is considered to be the world's largest single gathering of human beings -- the annual hajj pilgrimage, the fifth and final pillar of Islam. Hajj literally means "to set out for a place," and every able-bodied Muslim with the means to do so is expected to make the pilgrimage at least once in their lifetime, traditionally after first settling all their wordly affairs...(more)