Turkish Girl Dies Of Suspected Bird Flu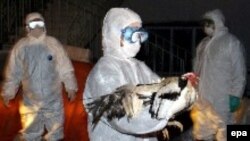 Chickens being culled in Ankara (file photo) (epa) 15 January 2006 -- Doctors in the eastern city of Van say tests are under way to determine whether the cause of Fatma Ozcan's death was the lethal H5N1 strain of the bird-flu virus.
Test results are to be announced later today. Dr. Ahmet Faik Oner also said that Ozcan's 5-year-old brother was in serious condition and was being tested for bird flu.
It was not clear whether the siblings had been in contact with fowl.
Earlier, reports said a 5-year-old Turkish boy was hospitalized in Istanbul with suspected bird flu. If confirmed, the boy would be the first case of the deadly H5N1 strain in Turkey's far west.
At least 18 people have been infected with the virus in Turkey. Four have recovered, while three have died.
Health officials say all of the victims likely caught the virus from direct contact with infected birds. They say there is no evidence to suggest the bird-flu virus has mutated into a form easily transmittable among humans.
(AFP, AP, Reuters)