Mongolians Take To The Streets Over Government Crisis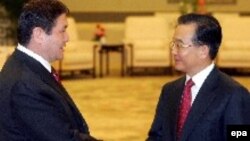 Mongolian President Enkhbayar (left) greets Chinese Prime Minister Wen Jiabao (file photo) (epa) 16 January 2006 -- Hundreds of Mongolians have again taken to the streets of the capital Ulan Bator as the country's political crisis continues.
Demonstrators gathered in the city's central square today demanded the resignation of the country's president, Nambaryn Enkhbayar, and the dissolution of parliament. Speakers called Enkhbayar "the father of corruption."
The protest was organized by the Mongolian United Movement, an alliance of three civic movements that have been calling for political reform.
The country has been thrown into political turmoil since the Mongolian People's Revolutionary Party (MPRP), the largest political party, withdrew from the ruling coalition last week. The government was then dissolved by parliament.
The MPRP pulled out because it said the administration of Prime Minister Tsakhilganiin Elbegdorj, a former pro-democracy activist, had failed to do enough to fight corruption and worsening poverty.
But protesters accuse the MPRP -- which led Mongolia under communism until 1990 -- of trying to seize power for itself.
(AP, Reuters, AFP)