Bulgarian Police Seize 40 Kilograms Of Heroin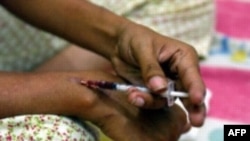 An intravenous drug-user (file photo) (AFP) 16 January 2006 -- The Bulgarian police have seized 40 kilograms of heroin in the capital, Sofia.
Police say the 80 packages of heroin, which were found on 16 January in a car driven by a Turkish citizen, were destined for Western Europe. The street value of the heroin was put at about 1.2 million euros ($1.45 million).
The seizure was the result of a joint operation by Bulgarian anti-mafia officers and the U.S. Drug Enforcement Administration.
(AP/ITAR-TASS)