The UN coordinator on avian and human influenza, David Nabarro, described the pledges as "brilliant" and "quite extraordinary."
The amount far exceeded the $1.5 billion the World Bank had said was needed to tackle the threat in developing countries.
The pledges include about $334 million from the United States and nearly $250 million from the European Union. The World Bank has approved a $500 million credit line.
EU Health Commissioner Markos Kyprianou said never before has mankind had a window of opportunity to prepare for a pandemic before it actually happens.
"We have to prepare ourselves. The avian influenza threat is not going to go away soon," Kyprianou said. "We must be ready to engage in a long battle in which each of us will have to remain vigilant and mobilize important resources and energies at home. The virus has not spared Europe. It has already spread into many countries in the region. Every day our farmers, our veterinarians are in the front line, engaging in dealing, fighting, and tackling with this threat."
Bird flu has been blamed for the deaths of some 75 people in East Asia since 2003, and four children died of the illness this month in Turkey.
(AP)
Interview With UN FAO's Erwin Northoff
Interview With UN FAO's Erwin Northoff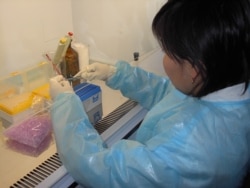 An expert at the National Virology Laboratory of the Kyrgyz Health Ministry (courtesy photo)
GETTING READY: Many have expressed concern about the ability of Central Asian countries to come to grips with a possible bird-flu outbreak. RFE/RL Turkmen Service correspondent Muhammad Tahir spoke with Erwin Northoff, news coordinator for the UN's Food and Agriculture Organization (FAO), about the issue. ....(more)