Bush made the remark today during a visit to the National Security Agency, the agency charged with collecting and decoding foreign communications of interest to U.S. security.
Bin Laden, in an audiotape that aired last week, warned that Al-Qaeda is preparing attacks in the United States but is open to a conditional truce with Washington. The United States immediately rejected the offer.
Bush has been criticized by some for focusing U.S. efforts on the war in Iraq at the expense of aggressively pursuing Osama bin Laden and his Al-Qaeda terrorist network.
(Reuters)
Who Is Ayman al-Zawahri?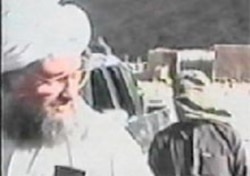 AYMAN AL-ZAWAHRI is regarded as Al-Qaeda's No. 2 authority. Although al-Zawahri is lesser known than Osama bin Laden, some observers say the deputy is just as powerful as the chief....(more)
See also:
Is Al-Qaeda Letter Sign Of Rift, Or Opportunity For Bush?