Early Results Put Hamas A Close Second In Palestinian Elections
Palestinian leader Mahmud Abbas casts his ballot in Ramallah during yesterday's parliamentary elections (epa) 26 January 2006 -- The Islamic militant movement Hamas appears to have finished a close second to the ruling Fatah party in the Palestinian parliamentary elections.
The first official results of yesterday's vote in the West Bank, Gaza Strip, and east Jerusalem are expected as early as this morning.
Exit polls of voters put Fatah seven or less percentage points ahead of Hamas, and all the polls suggested Fatah would not get enough support to keep a majority in the 132-seat Palestinian Legislative Council.
Correspondents say the strong showing by Hamas could result in a coalition government that could include Hamas cabinet ministers for the first time.
But Israel and the United States have warned that a Hamas entry into the Palestinian Authority could have consequences for the peace process. Israel refuses to have any dealings with Hamas, which officially calls for Israel's destruction, and the United States said it considers Hamas a terrorist organization and would have no relations with it.
More than three-quarters of some 1.4 million eligible voters were estimated to have cast ballots in the elections, the first legislative vote in the Palestinian territories for 10 years. No major disturbances were reported.

(compiled from agency reports)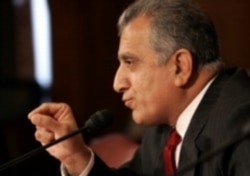 Shortly after assuming his post as U.S. ambassador to Iraq, Zalmay Khalilzad laid out his vision for that country in a major policy address. His plan called for a national compact enshrined in the constitution; the isolation and defeat of terrorists and hardcore Ba'athists and encouraging the region's leaders to address problems in a cooperative spirit and to pressure those who continue to foment instability
....(more)