Finnish President Wins Second Term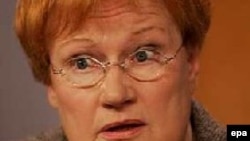 Tarja Halonen (file photo) (epa) 30 January 2006 -- Results indicate that incumbent Tarja Halonen has won Finland's Presidential run-off elections.
Her conservative challenger, former Finance Minister Sauli Niinisto, late on 29 January conceded defeat.
With over 95 percent of the votes counted, Halonen received nearly 52 percent, and Niinisto got about 48 percent.
Halonen, backed by the Social Democratic party and leftist and labor groups, had been campaigning on a platform of equality and preserving the welfare state.
Halonen was first elected in 2000 and will now serve her second and final six-year term of office.
(AFP/AP)