On 30 January, the Quartet of Mideast peace negotiators -- the United States, Russia, the European Union, and the United Nations -- said future financial aid to the Palestinian Authority will depend on a Hamas-led government's willingness to meet several conditions. They include renouncing violence, recognizing Israel's right to exist, and accepting the "road map" peace process that calls for the co-existence of Israel and a future Palestinian state.
"The Western stance represents injustice and despotism toward the Palestinians and a bias toward Israeli occupation. The decision is a penalty and punishment for our people for nothing, except that they successfully practiced democracy. Hence, we ask the Western societies once again to reconsider their stance and decision," Hamas spokesman Sami Abu Zuhri told RFE/RL today, in response to this pressure.
Aid For Recognition
Abu Zuhri was speaking in the wake of the meeting of the mideast Quartet in London on 30 January. At the meeting, Quartet representatives said future financial aid to the Palestinian Authority would depend on a Hamas-led government's willingness to accept the Israeli-Palestinian peace process.

Hamas does not recognize Israel's right to exist and claims responsibility for carrying out nearly 60 suicide bombings since 2000.

Other Hamas leaders have also called on the Quartet to reconsider any threats to cut off funding. Hamas representative Ismail Haniyah said in Gaza City on 30 January that international funding would only be used to meet government expenses.

"We confirm to you this income will be used to pay the salaries of [government] employees and fund daily running costs and infrastructure," Haniyah said. "You [donors] can confirm this through a mechanism that can be agreed upon."
Recognize Israel Or Else

So far, such assurances have done little to quell the international calls for Hamas to change.
Speaking in Brussels on 30 January, Austrian Foreign Minister Ursula Plassnik restated the bloc's demand for change. "Violence and terror are incompatible with democratic processes and in that respect, we have urged Hamas and all other factions to renounce violence, to recognize Israel's right to exist, and to disarm," she said.

Austria currently holds the rotating EU presidency. The EU is the largest single donor of funds to the Palestinian Authority and last year gave it more than $600 million.

The United States has taken a harder stance toward Hamas, which both the EU and the United States consider a terrorist group. The U.S. State Department signaled on 28 January that the United States would review all money given to Palestinians through the United Nations or nongovernmental groups, in addition to direct aid to the Palestinian Authority. The United States has earmarked $234 million for the Palestinians this year.
Calling Hamas To The Table

Russian President Vladimir Putin, speaking at a Kremlin press conference today, also called on Hamas to change. "[Hamas] must refrain from radical statements, recognize Israel's right to exist, and establish contacts with the international community," he said. "We're calling upon Hamas to consistently work in that direction."

UN Secretary-General Kofi Annan on 30 January called for Hamas to commit to nonviolence. "It is the view of the Quartet that all members of the future Palestinian government must be committed to nonviolence, recognition of Israel, and acceptance of previous agreements and obligations including the 'road map.'"

The question now is whether Hamas will bend to the pressure in order to ensure that any Hamas-led government could meet its expenses.

Abu Zuhri earlier told Reuters that his group would not change its positions due to international pressure. "The Hamas movement reiterates its commitment to its ideology and pledges to firmly refuse to renounce Palestinians' rights [for resistance] by all means."

Hamas also receives funding from some Arab states, including Saudi Arabia, and is believed to get support from Iran. Those countries have not said what they would do in the event of a cutoff of funding to the Palestinian Authority from the West.

(RFE/RL's Afghan Service broadcaster Sultan Sarwar contributed to this report.)
Security Guarantees For Iran?
Security Guarantees For Iran?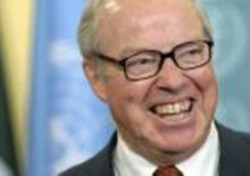 Hans Blix (CTK)

SECURITY GUARANTEES On January 26, RFE/RL Radio Farda correspondent Fatemeh Aman spoke with former UN chief weapons inspector HANS BLIX about the confrontation between Iran and the international community over Tehran's nuclear ambitions. Blix urged the United States to participate in direct negotiations with Tehran and to offer Iran security guarantees that are similar to those being discussed with North Korea...(more)
LISTEN
Listen to the complete interview (about five minutes):

Real Audio
Windows Media

THE COMPLETE STORY: RFE/RL's complete coverage of controversy surrounding Iran's nuclear program.