The 12 cartoons first appeared in a Danish newspaper, "Jyllands-Posten," in September 2005. Some of the cartoons show Muhammad wearing a bomb-shaped turban, and as a knife-wielding nomad.
On 31 January, a bomb threat forced employees at "Jyllands-Posten" to leave their offices.
Syria and Saudi Arabia recalled their ambassadors to Denmark, while Libya closed its embassy in the Danish capital, Copenhagen. Protests also came from Indonesia, the world's most populous Muslim nation, and Malaysia.
Chechen guerrilla leader Shamil Basayev called the cartoons "derogatory" in a statement posted on a website.
In Russia, the Orthodox Church and the Muslim Mufti Council condemned newspapers which republished the cartoons.
The cartoons were reprinted today in newspapers in France, Germany, Italy, Norway, and Spain, either in solidarity with the Danes or to illustrate news coverage.
The head of media watchdog Reporters Without Borders, Robert Menard, said the reaction of Arab regimes, in his words, "betrays a lack of understanding of the nature of press freedom."
(compiled from agency reports)
The Hajj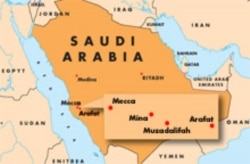 Click on the map for an enlarged image.

THE HAJJ: Every year, Islamic pilgrims converge on the Saudi holy city of Mecca for what is considered to be the world's largest single gathering of human beings -- the annual hajj pilgrimage, the fifth and final pillar of Islam. Hajj literally means "to set out for a place," and every able-bodied Muslim with the means to do so is expected to make the pilgrimage at least once in their lifetime, traditionally after first settling all their wordly affairs...(more)