PRAGUE, 19 February 2006 -- Malaysian Muslims today showed their anger over the cartoons depicting the Prophet Muhammad. Muslim protests continued today on three continents.
Governments are not finding it easy to keep the situation under control. In an attempt to stem the violence that already has led to five deaths in Pakistan this week, the government has arrested leaders of the country's religious six-party alliance and hundreds of religious activists.
Cracking Down On Demonstrations
Opposition lawmaker Maulana Fazlur Rahman vowed the six-party coalition would proceed with protests and described the ban as unconstitutional.
But a senior government administrator in Islamabad, Mohammed Ali, said that if " five or more than five people gather, they will be arrested."
This week Pakistani President Pervez Musharraf again condemned the cartoons.
"I, being a Muslim, condemn these blasphemous cartoons in the strongest terms," Musharraf said. "And I've always said, whether it is an extremist, or a terrorist, or a moderate, or an ultra-moderate, or progressive Muslim, all of us are one on this issue of condemning this blasphemous act that has been done in various parts of the media."
However, Musharraf has also urged calm.
Denmark Remains Concerned
Denmark has temporarily shut its embassy in Islamabad after the violent protests in Pakistan. A Danish Foreign Ministry spokesman said Denmark was "not satisfied with the security situation."
Former U.S. president Bill Clinton on a visit to Pakistan has also urged calm and said publishing the cartoons was a mistake.
"Nobody else should die over this," Clinton said. "And you shouldn't blame a whole country, a whole continent for what I believe was a mistake probably more of ignorance even than callousness. I don't mind Muslims all over the world being upset about this; I don't mind the demonstrations, but this is not the time to burn bridges, it is the time to build them. This is an enormous opportunity because I can tell you that most people who are not Muslims are horrified that this misunderstanding has occurred, and don't want violence to come out of this, but want greater understanding."
Indonesia, Nigeria
Today, hundreds of Muslim protesters brandishing sticks and hurling stones attacked the U.S. Embassy in Indonesia, claiming the United States seeks to destroy Islam. No one was injured in the protest.
In Africa, 16 people have been killed in northern Nigeria. At least 10 people were killed and several wounded as Libyan police tried to stop an angry protest of hundreds of demonstrators outside the Italian consulate in Benghazi on 17 February.
Clash Of Cultures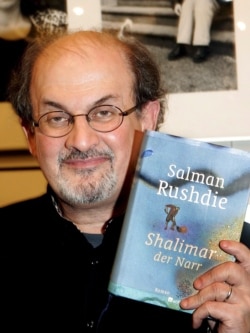 Indian-born writer Salman Rushdie (epa file photo)


The furor raised by the publication in Europe of cartoons believed by many Muslims to be insulting to Islam is far from being the first time that Western notions of freedom of expression have clashed with Islamic sensibilities. Below are a few of the major incidents in this long-running tension.
2005: London's Tate Britain museum removes from exhibition the "God Is Great #2" sculpture by John Latham for fear of offending Muslims, citing the "sensitive climate" after 7 July suicide bombings in London. The sculpture piece consists of three sacred religious texts -- the Koran, the Bible, and the Talmud -- embedded in a sheet of glass.
2004: Dutch filmmaker Theo van Gogh is murdered after release of his film "Submission" about violence against women in Islamic societies. Ayaan Hirsi Ali, a Somali-born member of Dutch parliament who wrote script, plans another film about Islam's attitude to gays. She has also received death threats.
2002: Nigerian journalist Isioma Daniel incenses Muslims by writing in "This Day" newspaper that Prophet Muhammad would have approved of the "Miss World" contest and might have wed a beauty queen. Muslim-Christian riots in northern city of Kaduna kill 200. Daniel flees Nigeria after a fatwa urges Muslims to kill her.
1995: An Egyptian court brands academic Nasr Hamed Abu Zaid an apostate because of his writings on Islam and annuls his marriage on grounds that a Muslim may not be married to an apostate. Abu Zaid and his wife move to the Netherlands.
1994: Taslima Nasreen flees Bangladesh for Sweden after court charges her with "maliciously hurting Muslim religious sentiments." Some Muslims demand she be killed for her book "Lajja" (Shame), banned for blasphemy and suggesting free sex.
1989: Iranian leader Ayatollah Ruhollah Khomeini calls on all Muslims to kill British author Salman Rushdie for blasphemy against Islam in his book "The Satanic Verses."
(compiled by RFE/RL)
See also:
Dutch Immigration -- The Death Of Multiculturalism
Report Says No Anti-Muslim Backlash In Europe
Vienna Conference Ends With Appeals For Understanding, Tolerance
A thematic webpage devoted to issues of religious tolerance in RFE/RL's broadcast region and around the globe.