China, Syria Criticize U.S. Rights Abuses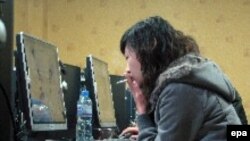 An Internet user in China's Shandong Province (file photo) (epa) March 9, 2006 -- China and Syria have criticized what they say are rights abuses in the United States, a day after Washington did much the same to China and Syria.
China's State Council, or cabinet, took aim at U.S. democracy -- calling it "a game for the rich" -- the high murder rate, domestic wire tapping, and the detention of reporters by U.S. forces in Iraq.
Syria's Foreign Ministry today also criticized the United States for committing serious human rights abuses.
The U.S. State Department said on March 8 that China increased its censorship of the Internet and of media critics last year and that harassment and detention of those challenging the authorities grew. It also criticized Syria for a number of human rights abuses.
The U.S. State Department annual report is usually swiftly rejected by China, which says its understanding of human rights differs from that of the West.
(Reuters, AFP, dpa)