PRAGUE, March 17 (RFE/RL) -- The Chinese use the graphic phrase "bare branches" to describe them. They are men with little prospect of having a wife and children -- doomed to remain alone because the brides they should have were never born.
An estimated 10 million young Chinese men will fall into the catergory in the coming few years, along with millions of young men in India.
Social And Political Implications
Apart from being a human tragedy, there are concerns that political and social stability in both countries could suffer. It is feared that the millions of restless young men could begin to vent their frustration through violence, crime, and political extremism.
"This is not something which is happening in poor families, but in wealthy families. They want to conserve land and property and hand it on to sons. And they don't want to dissipate that wealth among girls." - Rekha Masilamani of Pathfinder International
Huang Ying Ing is a woman specialist at Beijing's Renmin University Institute for Sexuality and Gender. For her, the problem lies in the fact that for many generations boys have had a higher social status than girls.
"It's a cultural thing," she says. "People do not think, for example, that in the future the men should have women to marry. Especially in rural areas, the son, -- even when he grows up -- remains part of the family, whereas the girl is taken away into some other family. So they think, especially in rural areas, that the son will support the family."
Many of these surplus males are now starting to leave rural areas to work in the cities. That has given rise to questions about potential dangers to public health.
Sex industry workers in China, for instance, are at a high-risk for infection with the HIV/AIDS virus. Prostitution, and possibly trafficking of women, also is expected to rise in areas where there are many single men. Maureen Richardson, of the Family Health International organization in Beijing, says this could encourage the spread of sexually transmitted diseases.
"There is concern about migrant and mobile men, as populations are moving in mass numbers from the countryside to the cities to build the new urban areas," Richardson said. "There is also a lot of new business. So you get a lot of mobile men with money."
Richardson says it is diffiult to predict the impact of the phenomenon on public health and other social issues because, in China at least, there has not been much solid academic reseach into the question.
Troubling Statistics In India
In India, however, sociologists already are examining statistics that show rising crime rates in areas where there are high concentrations of single men.
Official birth statistics indicate the severity of the gender imbalance. In China in 2004 the ratio stood at 100 females per 117 males. In India, during 2005, the ratio was 93 girls for every 100 boys.
Professor Zhang Kaining is the director of the Reproductive Health Institute in China's Yunnan Province. He says the situation may not be as bad as the statistics suggest.
He says he that he often finds girls in Chinese villages who have not been officially reported to Chinese statisticians. He says boys are registered in rural areas because they are preferred under China's one-child policy, but girls often go unreported.
"So from my personal understanding, in China there are more unreported girls," Zhang said. "Therefore I think that in five or 10 years we will have more young women than the government data [indicate]."
Zhang says local government officials are now taking the issue of gender imbalance seriously. He says that contrasts harshly with a state of denial in China that existed a decade ago.
Rekha Masilamani is the chief representative in India of Pathfinder International, an organization that provides family-planning education. She says that the pressure to have a son in India rather than a daughter is the strongest in middle-class families that have accepted the need to limit family size.
"There is an increasing tendency I feel, in families with a rural background, who are landed," Masilamani says. "This is not something which is happening in poor families, but in wealthy families. They want to conserve land and property and hand it on to sons. And they don't want to dissipate that wealth among girls."
Masilamani says Indian men and boys must be educated to understand that by doing away with daughters they are "cutting away at the very foundations of family life."
She also notes that women in India often are made to feel guilty if they bear a daughter. For that reason, Masilamani concludes it is important to raise the status of women in their own eyes.
Nowhere To Turn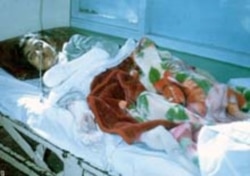 This Afghan woman died of self-immolation injuries in a hospital in Nangarhar Province on 18 October 2004 (RAWA)

Self-Immolation In Afghanistan
"Before she committed suicide, my sister always said she hoped she would never return to Afghanistan and experience the closed atmosphere of Herat," an Afghan woman named Virdee told RFE/RL.
At a shelter in Herat Virdee met several women who had attempted to kill themselves through self-immolation. The most tragic case, Virdee says, involved a young pregnant woman who survived despite suffering severe burns over 60 percent of her body....(more)
See also:
South Asia: Recent Killings, Violence Underscore Lack Of Progress In Gender Justice
Central Asia: Women's Rights Groups Fight Gender Violence
UN: Women's Conference Sees Progress On Rights Overshadowed By Violence