DEMONSTRATIONS CONTINUE: On March 21, the opposition protests in Minsk continued, although the crowds dwindled as authorities began arresting and intimidating some demonstrators. RFE/RL's Belarus Service is reporting continuously from October Square and filed these images.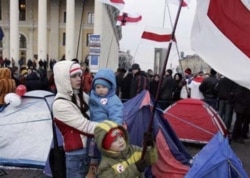 Young and old alike were on hand for the rally on March 21 (RFE/RL)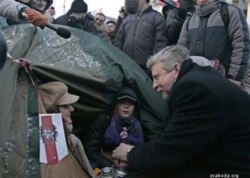 Opposition leader Alyaksandr Milinkevich (right), who took 6 percent of the March 19 vote according to official figures, speaks to supporters (RFE/RL)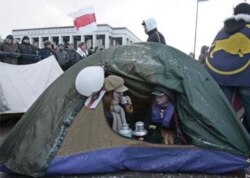 Demonstrators huddled in tents and drank tea to keep warm (RFE/RL)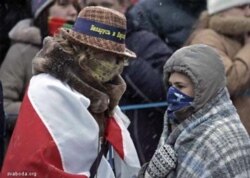 Temperatures have been below freezing since the beginning of the protests with intermittent snowfall (RFE/RL)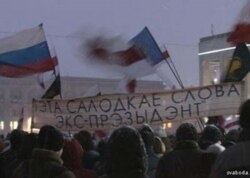 As night fell, diehard protesters pledged to continue their vigil on the square, reiterating their calls for a new election (RFE/RL)
SEE FOR YOURSELF: View a short video clip taken on October Square on the morning of March 21:
Real Audio Windows Media


THE COMPLETE PICTURE: Click on the image to view a dedicated page with news, analysis, and background information about the Belarusian presidential ballot.


COVERAGE IN BELARUSIAN: Click on the image to view RFE/RL's coverage of the election campaign in Belarusian and to listen to RFE/RL's Belarusian Service.