Police say at least five other policemen were wounded in the attack in Madain. They also say at least 50 people were detained in raids afterward.
The attack came one day after at least 18 police were killed in a similar assault in Muqdadiya, north of the capital. Ten insurgents were reported killed in the fighting.
Insurgents in Baghdad today targeted Shi'ite Muslims returning from a religious commemoration in the holy city of Karbala. Police say at least two pilgrims were killed and dozens of others were wounded in the attacks.
Police also reported the discovery of six more dead bodies on the street of the capital, all apparent victims of sectarian violence between Shi'ite and Sunni Muslims.
(Reuters, AP, AFP, dpa)
Sectarian Iraq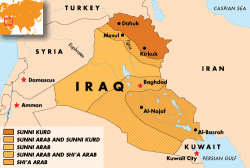 Click to enlarge the image.
SUNNI, SHI'A: Iraq is riven along sectarian lines, faults that frequently produce violent clashes and are a constant source of tension. Sectarian concerns drive much of Iraqi politics and are the main threat to the country's fragile security environment.


THE COMPLETE PICTURE: Click on the image to view RFE/RL's complete coverage of events in Iraq and that country's ongoing transition.