Chinese President To Hold Talks In Washington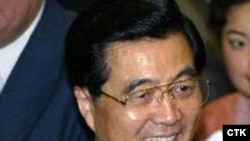 Chinese President Hu Jintao (CTK) March 22, 2006 -- Chinese President Hu Jintao will visit his U.S. counterpart, George W. Bush, on April 20.
The White House said in a statement today that Bush is looking forward to discuss with the Chinese leader the war on terror, nonproliferation, and "advancing freedom and promoting prosperity in Asia and beyond."
Hu postponed a planned visit last September after Hurricane Katrina battered the coast of the Gulf of Mexico.
(AP, AFP, Reuters)