One Million March In French Labor Protests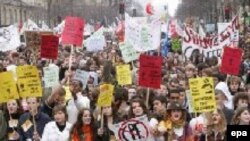 Demonstrators march through the streets of Paris today to protest the First Job Contract (CPE), the new French youth labor law (epa) March 28, 2006 -- An estimated 1 million people marched in cities across France today, urging the government to repeal a new labor law that would make it easier to dismiss young workers during their first two years of employment.
It was one of France's biggest protests in years.
More than 240 people were arrested following clashes with police.
In Paris, at one point, hundreds of thousands demonstrated. Tonight, police used tear gas against hundreds of youths who threw bottles and lit bottles containing gasoline.
The protests forced the Eiffel Tower to close to tourists. Commuters around the country faced delays on public transport and airports were disrupted.
(Reuters, AP)