Sharon's Kadima Party Set To Win Israeli Elections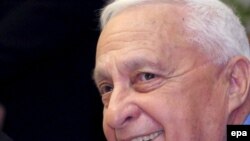 The Kadima party founder, Prime Minister Ariel Sharon, on Dec. 25, 2005, before his massive stroke (epa) March 29, 2006 -- Kadima, the centrist party founded by Israeli Prime Minister Ariel Sharon shortly before he suffered his crippling stroke, is emerging as the strongest party in parliament following the Israeli elections.
Israeli television exit polls of voters projected that Kadima, led by acting Prime Minister Ehud Olmert, would get between 29 and 32 seats in the 120-member Knesset, putting it in position to potentially lead a new governing coalition.
Olmert has said that in the absence of progress in peace talks with Palestinians, he supports dismantling some Jewish settlements in the West Bank and imposing a final border on the Palestinians.
The exit polls forecast the center-left Labor Party taking up to 22 parliament seats, while the right-wing Yisrael Beitenu party, popular with Russian immigrants to Israel, is projected finishing as high as third, with 12 or more seats.
The projections showed the formerly governing right-wing Likud party getting only about 12 seats.
Officials said the turnout in the elections was about 63 percent, the lowest in Israeli history.
(compiled from agency reports)