Total Solar Eclipse From Brazil To Mongolia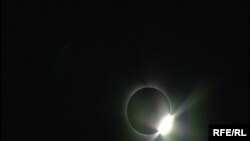 A view of the eclipse from Pyatigorsk in the Russian North Caucasus (RFE/RL) March 29, 2006 -- The moon today blotted out the sun, turning day into night in a total solar eclipse from South America to the steppes of Mongolia.
Total solar eclipses occur when the Moon comes between the Earth and the Sun, completely obscuring the solar disk for a few minutes. The eclipse, which should be viewed only with special glasses, follows a eastward track that lasts several hours until the alignment ends.
Countries lying directly under today's eclipse were Brazil, Ghana, Togo, Benin, Nigeria, Niger, Chad, Libya, Egypt, Greece, Turkey, Georgia, Russia, Kazakhstan, and Mongolia. The umbra covered a distance of about 14,500 kilometers.
The last total eclipse was in 2003, but was only visible from part of Antarctica. The next one is due in 2008.
(AFP)


UPDATED CONSTANTLY: Visit RFE/RL's Russian-language website, featuring news, analysis, features, streaming audio, and more, in Russian, from RFE/RL's Russian Service.
ARCHIVE
RFE/RL's English-language
coverage of Russia
.