U.S. Tribunal Hearing Guantanamo Case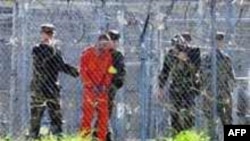 A handcuffed prisoner at the U.S. detention facility at Guantanamo Bay (file photo) (AFP) April 4, 2006 -- A U.S. military tribunal at a naval base in Cuba has opened a hearing for a suspected Al-Qaeda militant charged in a 2002 attack in Afghanistan.
Abdul Zahir is accused of wounding three journalists. Prosecutors say he was working for Al-Qaeda in Afghanistan as a courier.
The U.S. has faced strong criticism for the Guantanamo Bay detention facility. Critics say the detainees have been held too long without a trial and under conditions that violate international law.
The U.S. Defense Department today, meanwhile, released 2,600 documents from proceedings against prisoners at Guantanamo Bay. The Pentagon fought a four-year effort to keep the documents secret.
(AFP, AP, Reuters)