Authorities are now trying to calm the general public.
Bird flu has killed around 100 people the past three years. But the transmission from birds to humans remains rare and usually only when a person has had close contact with an infected bird.
Meanwhile, Egypt says a third person -- a teenage girl -- has died from the bird flu.
In Nigeria, authorities say the bird flu virus is now present in its most-populous city, Lagos.
So far no human cases of the disease have been detected in Nigeria. But the presence of the virus in Lagos -- home to an estimated 15 million people -- has health officials worried.
(compiled from agency reports)

Interview With UN FAO's Erwin Northoff
Interview With UN FAO's Erwin Northoff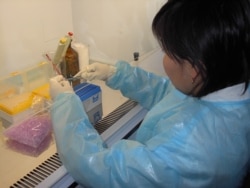 An expert at the National Virology Laboratory of the Kyrgyz Health Ministry (courtesy photo)
GETTING READY: Many have expressed concern about the ability of Central Asian countries to come to grips with a possible bird-flu outbreak. RFE/RL Turkmen Service correspondent Muhammad Tahir spoke with Erwin Northoff, news coordinator for the UN's Food and Agriculture Organization (FAO), about the issue. ....(more)