No Al-Qaeda Link To London Attacks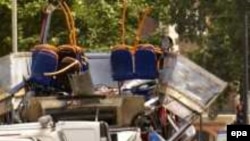 The remains of a bus blown up in the London bombings in July 2005 (file photo) (epa) April 9, 2006 -- The British newspaper "The Observer" says a government inquiry into the terrorist attack in London last July found no direct link to Al-Qaeda, although two of the bombers had visited Pakistan.
The first forensic account of the attack, ordered by Britain's Home Office, says the coordinated bombings of London's transport system were the product of a "simple and inexpensive" plot hatched by four British extremists bent on martyrdom.
The four suicide bombers killed 52 people and wounded hundreds.
(AP, AFP)