Moussaoui Sentenced To Life In Prison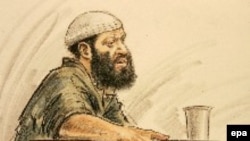 A courtroom artist's rendering of Zacarias Moussaoui testifying at his sentencing trial in March (epa) May 3, 2006 -- A U.S. jury today ordered life in prison without the chance of parole for Zacarias Moussaoui, a co-conspiritor in the September 11, 2001, terror attacks on the United States.
The jury rejected giving Mouissaoui the death penalty, as sought by the prosecution.
Moussaoui is the only person convicted in the United States in connection with the deadly attacks. He will be formally sentenced on Thursday by a federal judge.
The 37-year-old French citizen of Moroccan descent was arrested three weeks before the September 11 attacks and said later that he was meant to pilot a fifth airplane into the White House as part of the plot.
He pleaded guilty to six counts of conspiracy, three of which carried a maximum death sentence.
Moussaoui also said he had no remorse for the September 11 attacks, in which about 3,000 people died.
(compiled from agency reports)