WASHINGTON, May 10, 2006 (RFE/RL) -- Senator John McCain, who is considered a possible contender for the nomination of the Republican party in the 2008 presidential election, had few kind words for the government of Uzbek President Islam Karimov.
McCain, addressing a forum cosponsored by RFE/RL, the National Endowment for Democracy, and U.S.-based human rights organizations, argued that the human rights situation in Uzbekistan over the past year has worsened from an already bad starting point.
Going From Bad To Worse
"A year ago there were no independent media or true opposition parties in Uzbekistan, the government's human rights record was appalling, and political rights were virtually unknown," McCain said. "Often, in the name of battling Islamic terrorism, the government frequently rounded up those opposed to its rule, sometimes subjecting prisoners to torture. Now, one year later things have gotten even worse."
Since Andijon, McCain said the regime has launched a brutal crackdown on peaceful dissent, arresting and torturing opposition and human rights activists, while "staging show trails reminiscent of the Stalin era."
Congressman Christopher Smith agreed that the human rights situation in Uzbekistan was problematic even before Andijon.
He said that the country's poor human right record made U.S.-Uzbekistan cooperation on security matters difficult despite the fact that "no Central Asian country worked harder during the last 15 years to develop good strategic relations" with the United States.
Uzbekistan evicted the U.S. military from its Karshi-Khanabad air base late last year in reaction to Washington's condemnation of the events in Andijon.
Repression, Torture Increase Insecurity
Smith acknowledged that Uzbekistan and the Central Asia region face a real threat from Islamist organizations such as the Islamic Movement of Uzbekistan and Hizb ut-Tahrir, but argued that "pervasive torture" and a "war against Muslims" only make matters worse.
"Karimov's exclusive reliance on repression, I believe, only exacerbates matters and has probably supplied cadres for radical and terrorist organizations," Smith said.
McCain extended Smith's argument further. He suggested that Uzbekistan's human rights practices not only worsen the situation in Uzbekistan, but also undermine U.S. security interests in the region. He called on the United States to follow in the European Union's footsteps in dealing with Karimov.
Time For Sanctions?
"Tashkent's actions are clearly inimical to our security interests, and they fly in the face of our efforts to promote freedom and democracy abroad," McCain said. "I believe that as Americans, we cannot stand silent in the face of such abuses as we have seen in Uzbekistan. The European Union has not remained silent. Last October, the EU imposed sanctions, including an arms embargo on Uzbekistan and a ban on visas for officials responsible for the massacre. We should do at least as much."
According to Smith, the bill, called "The Central Asia Democracy And Human Rights Promotion Act," has similar features to the EU legislation, including a visa ban and an export ban on munitions. The United States has not provided arms to Uzbekistan for the past year, Smith said, but this bill would enshrine that practice in law.
"The sanctions section also establishes an asset freeze for Uzbek officials, their family members, and their associates implicated in the Andijon massacre or involved in other gross violations of human rights," Smith said.
Smith originally introduced the bill last July. Its key component was that all nonhumanitarian aid to the five Central Asian countries -- including military aid -- be conditioned on a certification from President George W. Bush that they are making progress toward democratization and respect for human rights. The new version would provide $118 million in assistance for human rights and democracy training, as well as $15 million for increased RFE/RL and VOA broadcasting.
The Russia Factor
McCain also used the occasion of the Andijon anniversary to comment on the upcoming July G8 summit in the Russian city of St. Petersburg. McCain recalled that he and Senator Joseph Lieberman (Democrat, Connecticut) have proposed a resolution calling on Bush not to go to St. Petersburg because of the "continued authoritarian and repressive practices of Mr. Putin and the government of Russia." McCain noted the support of Russian President Vladimir Putin's administration for the Karimov regime.
"Uzbekistan and Belarus and other countries, which remain Stalinist in nature [and] which are encouraged and actively supported by the Russian government, must be viewed in the context of our entire relations with Russia and the direction -- the unfortunate direction -- which Putin has taken Russia and his attempt to somehow reconstitute the old Russian empire," McCain said.
Smith also referred to Russia as a major player that is "working hard to undermine" the United States' efforts in the region.
Andijon Anniversary Conference
Andijon Anniversary Conference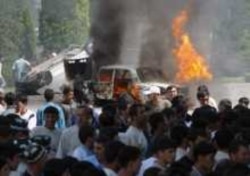 Violence in Andijon, Uzbekistan, on May 14, 2005 (epa)


TALKING ABOUT ANDIJON:
On May 9, 2006, RFE/RL, the National Endowment for Democracy, and U.S.-based human rights organizations cohosted a conference on the May 2005 events in Andijon and their aftermath in Uzbekistan and throughout the region. The first panel featured Andijon eyewitness
GALIMA BUKHARBAEVA
, National Endowment for Democracy Fellow
NOZIMA KAMALOVA
, RFE/RL Central Asia analyst
DANIEL KIMMAGE
, and others. The second panel featured presentations by U.S. Senator
JOHN MCCAIN
and U.S. Congressman
CHRISTOPHER SMITH
, who used the forum to announce they had introduced legislation calling for sanctions and other measures against the government of President Islam Karimov.
LISTEN
Listen to the Andijon conference. Part One (70 minutes):
Real Audio
Windows Media
Part Two (60 minutes):
Real Audio
Windows Media
The Uzbek government's response:
Real Audio
Windows Media


THE COMPLETE STORY: A dedicated webpage bringing together all of RFE/RL's coverage of the events in Andijon, Uzbekistan, in May 2005 and their continuing repercussions.
CHRONOLOGY
For an annotated timeline of the Andijon events and their repercussions, click here.