PRAGUE, May 10, 2006 (RFE/RL) -- The bloody crackdown on May 13 was preceded by public protests surrounding the sedition trial of 23 local businessmen.
The men were also charged with membership of a banned Islamic group called Akramiya. All of the defendants denied the charges.
Trial Sparks Local Tensions
But even before the trial began in February 2005, their companies had been closed, property confiscated, and their employees sent home to join the ranks of Ferghana Valley's massive jobless population. Human rights activists had accused authorities of using trumped-up charges to get at the businessmen's assets.
Family members and former employees had been demonstrating for weeks outside the courthouse, demanding a fair trial.
"I went personally to School No. 15 in Andijon. And I saw the bodies that were gathered there. I saw it with my own eyes. There were about 500 bodies or more." --Gulbahor Toraeva, Andijon physician.
Andijon-based human-rights activist Lutfulla Shamsiddinov was monitoring the trial. He spoke to RFE/RL on May 10, just days before the rebellion and official crackdown.
"There were around 5,000 people near the courthouse," he said. "In a very organized manner, they were sitting on long benches that they had brought and put on the roadside. There was neither disorder nor shouting."
A verdict was expected on May 11, but was postponed until further notice.
On May 12, word spread that relatives and friends of the accused had been detained. That appeared to trigger more dramatic events.
Protesters Release Defendants, Demand Fair Trial
On the night of May 12-13, unidentified attackers took over a police station, a military garrison, and the prison housing the 23 defendants.
Karimov, addressing a news conference on May 14, blamed members of Hizb ut-Tahrir, an outlawed group seeking to establish an Islamist state in Central Asia, for the unrest. The London-based Hizb ut-Tahrir quickly dismissed the allegation.
Prosecutor-General Rashid Qodirov subsequently laid out the government's version of what happened in the early morning hours of May 13.
"During the attack [on the police station], the criminals murdered four personnel of the patrol post, [and] four more were seriously wounded," Qodirov said. "They took 264 firearms, 40 grenades, and more than 8,000 rounds of ammunition. After that, the same armed band raided the nearby military base and seized a huge amount of weaponry -- including 53 machine guns, four rifles, and more than 2,000 rounds of ammunition, as well as a ZIL-130 [military] truck."
Uzbek authorities said the attackers freed some 600 prisoners, including the 23 businessmen. Inmates later told RFE/RL that the jailbreak came as a surprise to them. They suggested they didn't know their liberators.
Several cars, as well as a theater and a cinema, were set on fire during the chaos overnight.
But a band of men also took over Andijon's hokimiyat, the regional administration building.
One of those occupying the building, Sharipjon Shakirov, told RFE/RL that his group was demanding that the charges be dropped against all 23 businessmen. The same man -- who was killed several hours later -- said the occupiers were also demanding that Russia mediate their negotiations with the Uzbek authorities.
Tensions rose, but the next few hours would prove critical as a rumor spread that Karimov would show up to address the city, and the occupiers reportedly encouraged their relatives to demonstrate in the city's main square.
The number of people at the downtown gathering swelled, boosted by curious onlookers. Demonstrators then began to promote political demands, including improved living conditions and an end to corruption and rights abuses.
Some also demanded Karimov's resignation.
"Down with Karimov!" demonstrators shouted. "Down with Karimov! Down with him! [We have] no weapons! We only demand our rights! He must reduce prices! He must open factories and plants that were closed down!"
Listen to the audio of the May 13, 2005, demonstration (13 seconds):
Real Audio
Windows Media
The Crackdown Comes
As the rally continued, then-Interior Minister Zakir Almatov negotiated with protest leader Qobil Parpiev, who was inside the regional administration building. Parpiev, who fled to Kyrgzystan after the events, told RFE/RL in July 2005 that the minister promised safe passage for those occupying the building.
"He said we should leave [Uzbekistan]," Parpiev said. "He said he had deployed 20,000 troops in Andijon; he said he could easily raise that number to 65,000, if necessary. He said he wouldn't stand for any objections, or any talks. He said, 'Take everyone you want and go to Osh [in neighboring Kyrgyzstan]. We're going to give you a corridor [for safe passage].' I felt that he was lying and that if we took buses, as he suggested, and tried to go to Osh, they would just kill all of us. I felt that way, and we decided to disperse -- to run. He didn't ask whether we had any demands."
Shortly after Parpiev's conversation with Almatov, government troops started shooting.
Journalist Galima Bukharbaeva was at the scene when the shooting started.
"It was almost 5:30 p.m. when the people saw APCs [armored personnel carriers] approaching," Bukharbaeva said. "People started screaming and running away. We also ran. There were two or three APCs at first. I couldn't tell exactly, because I was running together with the crowd. But then, just five minutes later, more APCs came, and they started shooting in our backs. Bullets were flying. It was terrifying."
Protesters streamed out of the city center. Some were killed. Others fled toward the nearby Kyrgyz border.
Violence On The Kyrgyz Border
Eyewitnesses who reached the border town of Teshiktosh said they encountered an ambush there. They claimed that troops encircled the crowd and began shooting randomly into the crowd.
Mahbuba Zokirova, a 33-year-old housewife from Andijon, testified before an Uzbek court that security forces had massacred unarmed civilians.
"When we reached Teshiktosh, no one had any weapons," Zokirova said. "There were women, old women, pregnant women, and children. They took headscarves and made white flags. The men said, 'They won't shoot. We'll send you, the women, across [the border]. If they shoot anyone, they'll shoot us.' When we went, they didn't pay any attention to the white flags. The worst part is, even Hitler didn't shoot people who raised the white flag. They fired. I saw it with my own eyes. I swear on my four children -- they fired. They did. It was a nightmare."
How Many Were Killed?
No one can say for sure how many people died in Andijon and its immediate aftermath. The government puts the death toll at 187. Eyewitnesses and human rights activists say many hundreds died.
School No.15 in Andijon was temporarily turned into a morgue, according to Gulbahor Toraeva, a physician from Andijon.
"If we speak about those events, I went personally to School No. 15 in Andijon," Toraeva told RFE/RL on May 15. "And I saw the bodies that were gathered there; I saw it with my own eyes. There were about 500 bodies or more."
More than 400 Andijon residents who managed to reach Kyrgyzstan were subsequently granted political asylum abroad.
Andijon Anniversary Conference
Andijon Anniversary Conference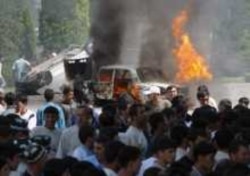 Violence in Andijon, Uzbekistan, on May 14, 2005 (epa)


TALKING ABOUT ANDIJON:
On May 9, 2006, RFE/RL, the National Endowment for Democracy, and U.S.-based human rights organizations cohosted a conference on the May 2005 events in Andijon and their aftermath in Uzbekistan and throughout the region. The first panel featured Andijon eyewitness
GALIMA BUKHARBAEVA
, National Endowment for Democracy Fellow
NOZIMA KAMALOVA
, RFE/RL Central Asia analyst
DANIEL KIMMAGE
, and others. The second panel featured presentations by U.S. Senator
JOHN MCCAIN
and U.S. Congressman
CHRISTOPHER SMITH
, who used the forum to announce they had introduced legislation calling for sanctions and other measures against the government of President Islam Karimov.
LISTEN
Listen to the Andijon conference. Part One (70 minutes):
Real Audio
Windows Media
Part Two (60 minutes):
Real Audio
Windows Media
The Uzbek government's response:
Real Audio
Windows Media


THE COMPLETE STORY: A dedicated webpage bringing together all of RFE/RL's coverage of the events in Andijon, Uzbekistan, in May 2005 and their continuing repercussions.
CHRONOLOGY
For an annotated timeline of the Andijon events and their repercussions, click here.