OSH, Kyrgyzstan; May 12, 2006 (RFE/RL) -- Abdujalil lives off an alleyway on the outskirts of this Kyrgyz city. Nearly 60, he roams the barren garden outside a modest home with little to occupy his time. He has little to eat and virtually no money for food. The trip from here to his Uzbek hometown of Kokand is less than an hour's drive.
But it might as well be a lifetime.

Abdujalil fled Uzbekistan after the May 2005 bloodshed when troops in the eastern city of Andijon opened fire on demonstrators. At the time, he was co-chairman of the Erk Democratic Party in nearby Kokand. He and others began investigating what happened in Andijon -- including the numbers of killed or missing.
Official Retribution?

Abdujalil says that within two months -- in early July -- the co-chairman of another opposition group, Birlik, had been summoned by authorities, arrested, and jailed. So when he was similarly summoned, he says he declined the invitation.

"On July 15, [law-enforcement authorities] summoned me to a meeting," Abdujalil recounts. "I didn't go and [instead] went somewhere else. I was away on July 16 and 17, and on July 18, I arrived in Kyrgyzstan."

He says Uzbek authorities have pressured his family ever since -- so much so that he doesn't even try to telephone his relatives any more. Abdujalil describes "feeling [those relatives] trembling" on the other end of the line whenever he called.
Refusing To Forget

He and other leaders from Erk and Birlik have formed a group they call the People's Committee for the Salvation of Uzbekistan (KNSU). They are organizing a rally for May 12 outside the Organization for Security and Cooperation in Europe (OSCE) office and Russian consulate in Osh to remind people of what happened in Andijon.

Toghawai Razzakov is a human-rights defender, a member of Birlik, and an Uzbek refugee in Kyrgyzstan. He arrived in Osh only recently, and says authorities in Andijon were trying to erase the painful memory of what happened as the anniversary approached.

"You see, no one [in Uzbekistan] will mark May 13," Razzakov says. "Quite the opposite. [Authorities] have begun holding concerts of Andijon performers in the stadium. They want to brainwash the youth [and] the people, and turn a day of sorrow into a holiday."


Israiljon Kholdarov, the chairman of the Erk party's chapter in Andijon Province, is another recent arrival in Kyrgyzstan. He says authorities in Andijon have warned relatives of those killed last year to limit traditional ceremonies for the dead to strictly private affairs.
"According to Uzbek custom, there is a wake on the first anniversary of a relative's death," Kholdarov says. "There are two [security-service] officers and one militiaman outside the homes of every family in which a relative died [last year in Andijon]. They are telling the families not to invite people to [mark] the anniversary, and the mahalla [neighborhood] leaders are supporting it."
Abdujalil, Kholdarov, Razzakov, and other Uzbek opposition activists now in Kyrgyzstan all say they want to go home. But they vow not to return as long as President Islam Karimov remains in power. They say they advocate peaceful change in government and are eagerly awaiting that day.
But for the moment, their efforts are aimed at ensuring that the world remembers what happened in Andijon one year ago.
(Elmurad Jusupaliev of RFE/RL's Uzbek Service contributed to this report.)
Andijon Refugees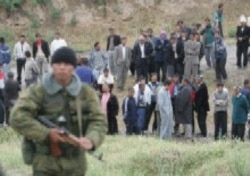 Uzbek refugees in Kyrgyzstan on May 19, 2005 (epa)


NO PLACE TO GO: More than 400 Uzbeks who fled in panic in the hours and days after troops opened fire on demonstrators in Andijon one year ago have been granted political asylum outside Central Asia. In limbo for weeks in Kyrgyzstan as they and the world tried to come to grips with the bloody events of May 12 and 13, they feared for their lives and the lives of family members as the official crackdown continued.... (more)
RELATED ARTICLES
Andijon Refugees In Romania Have Escaped Violence, But Not Heartache
Refugees In Romania Await Decision On Destination
Refugees Want To Return Only If Regime Changes


THE COMPLETE STORY: A dedicated webpage bringing together all of RFE/RL's coverage of the events in Andijon, Uzbekistan, in May 2005 and their continuing repercussions.
CHRONOLOGY
For an annotated timeline of the Andijon events and their repercussions, click here.