PRAGUE, May 11, 2006 (RFE/RL) -- Fifteen Uzbeks -- 12 men and three women -- are learning the Czech language.
They've been at it nearly since they were granted political asylum in the Czech Republic five months ago. They live in a refugee camp in Straz pod Ralskem, about 90 kilometers north of the capital, Prague.
Following the violence in Andijon in May 2005, they fled first to neighboring Kyrgyzstan. Within months and with UN backing, they were sent along with their fellow Andijon refugees to Romania. In December, these 15 Uzbeks were flown to the Czech Republic.
Witnesses To Tragedy
All 15 were on Andijon's main square when government troops opened fire on the crowd there.
Most of them say they were there out of curiosity.
"I was on my way to the market [when] I saw the crowd," one man, who asked not to be identified, said. "I thought, 'What's going on?' and I went there. There was a demonstration. People were speaking. I stood there for a while, then soldiers came and opened fire."
"They opened fire again on the border with Kyrgyzstan," Zuhra said. "My father was wounded in the lower belly. We went into a house, [and] we were so grateful to that person. She did her best to help us, although she didn't have much -- she wasn't a doctor. I'd never seen that much blood in my life. Blood was flowing as if from a bucket."
Twenty-nine-year-old Momina says she went downtown to protest the economic conditions under which her family was being forced to live.
Poverty And Unemployment
"I [was blessed with] a baby after 10 years of trying," she said. "My husband lost his job -- he worked in a big canteen, but it was closed down. I got sick and was unable to breastfeed my child. A package of baby formula -- enough for one day -- cost 5,000 [Uzbek soms ($5); the average Uzbek monthly salary is 30,000 soms]. It was so hard that I decided to go there and tell them about my life."
Others, like 33-year-old Zuhra, were acquainted with some of the 23 businessmen whose trial led to the Andijon protests. Zuhra's husband, Abdusalom, worked for one of the defendants.
Zuhra and her husband were among the thousands of people who had been gathering outside the Andijon courthouse for weeks. They were protesting what they believed were unfounded charges and demanding a fair trial.
When government troops opened fire, protesters tried to escape. Some died, although there is a huge gap between the official figure of 187 and estimates from eyewitnesses and nongovernmental groups.
Flight To The Border
Zuhra's father was among the many wounded in the hours that followed, including during a desperate attempt by many Uzbeks to reach neighboring Kyrgyzstan, more than 20 kilometers away.
"They opened fire again on the border with Kyrgyzstan," Zuhra said. "My father was wounded in the lower belly. We went into a house, [and] we were so grateful to that person. She did her best to help us, although she didn't have much -- she wasn't a doctor. She gave us vodka [to disinfect the wound] and a knife to remove bullets. We were putting bandages on men. I'd never seen that much blood in my life. I had to help [wounded] boys. Blood was flowing as if from a bucket."
Zuhra's father survived and later returned home. Hundreds of others crossed the Kyrgyz border -- where they stayed until late July. With UN backing, 439 Uzbeks were then flown to Romania and subsequently granted asylum abroad.
The 15 people who came to the Czech Republic are housed in a refugee dormitory and receive 4,400 Czech crowns ($191) a month -- about one-fifth of the average Czech wage.
A New Life
The women were baking Uzbek bread and pastries for lunch when RFE/RL visited the camp earlier this month. Abdusalom said the group recently organized an exhibition of Uzbek food in the nearby city of Liberec. One of them was offered a job as a cook after the exhibition was over.
Thirty-five-year-old Rahim says he hopes to find a job in the Czech Republic, too.
"There is a sewing workshop," he said. "I had to take a test. They said I did well. They should call me tomorrow. I hope I get a job."
The refugees' Czech teacher, Hana Karkova, says her students' progress in the language is impressive.
"They've been learning Czech for four months," Karkova said. "Czech is a difficult language. But they speak it very well, because they have worked hard. They know it's important."
Cut Off From Home
The refugees say the future concerns them as much as the past -- and the fate of their children and other relatives they left behind.
In the first months after the Andijon tragedy, they heard news of their loved ones, and even received letters through international organizations. But Uzbek authorities have closed down the activities of many international groups and evicted independent reporters from the country. The office of the UN High Commissioner for Refugees (UNHCR) was ordered to leave Uzbekistan in April.
They say telephone remains the only line of communication with their relatives back home. But it's prohibitively expensive, and their families are guarded in conversation out of fear that they'll be persecuted.
Momina says she longs to see her 18-month-old baby, and she regrets being at the protest a year ago.
"I believe none of demonstrators would protest again if that day were repeated," she said. "Ordinary people went there to say, 'The money you give us is not enough. We can't buy meat, only bread, and we can't buy sugar to give to our children with tea.' Now, after so many difficulties and losses, people would say, 'OK, let my kids have tea without sugar. OK, let them grow up without eating meat.' But if I had known about the looming bloodshed, I never would have protested."
Faces And Voices
WE WERE THERE:
RFE/RL correspondent Gulnoza Saidazimova visited a group Andijon refugees in the Czech town of Straz pod Ralskem and spoke to them about their recollections of the May 2005 violence and their lives since. (Photographs by G. Saidazimova)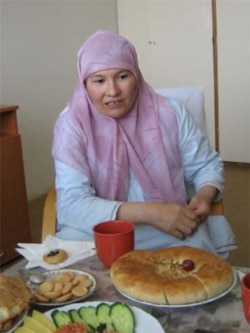 ZUHRA, aged 33: "On 13 May, I learned what APCs [armoured personnel carriers] and kalashnikovs were."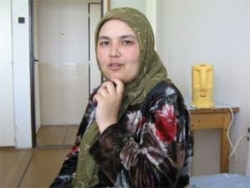 MOMINA, aged 29: "I called my parents twice from here. The second time they said: 'We are scared to talk to you. Our neighbor also received a phone call [from a relative who was granted asylum abroad]. Then the police came and beat him up.'"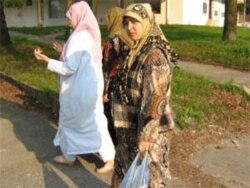 ODINA, aged 34: "I saw a woman with bullet wound in the back. From behind, we could see her hearting. It was beating. She was begging: 'Call the doctor. I don't want to die.' Later, in Kyrgyzstan, we heard she had died. "




THE COMPLETE STORY: A dedicated webpage bringing together all of RFE/RL's coverage of the events in Andijon, Uzbekistan, in May 2005 and their continuing repercussions.
CHRONOLOGY
For an annotated timeline of the Andijon events and their repercussions, click here.