OSH, Kyrgyzstan; May 12, 2006 (RFE/RL) -- Jamshed Mukhtarov stands in a dark room and dejectedly unfurls banners condemning events last year in Andijon, when Uzbek authorities opened fire on demonstrators. Official figures suggest that 187 people were killed in all, but eyewitnesses and rights group suggest several times that number died.
Mukhtarov's banners urge the international community not to forget what happened, and they demand justice. But no one is likely to see these banners, as Mukhtarov and his opposition colleagues are being forced to abandon their planned demonstrations today and tomorrow.
No Political Activity
"On May 10, one of our refugees, Isroiljon Kholdarov, was called by the local branch of the Interior Ministry for a discussion, but they didn't hold any talks," Mukhtarov said. "They just kept him there for a long time and told him not to hold any [political] activities."
This young activist from the opposition Ozod Dehkonlar (Free Peasants) party fled to Kyrgyzstan with his family several months ago. Uzbeks from other opposition groups -- like the Erk Democratic Party and the Birlik movement -- have trickled across the border in groups of two or three since the Andijon tragedy.
Uzbek authorities blame Islamic militants for the violence in Andijon, claiming government troops resisted an attempted coup when they fired on crowds. Witnesses and rights groups accuse the Uzbek government of a massacre that left hundreds of civilians dead.
But in the wake of Andijon, a crackdown has targeted the Uzbek political opposition. Many political activists from the Uzbek region of the Ferghana Valley have fled to Kyrgyzstan.
Members of Erk, Birlik, Ozod Dehkonlar, and other Uzbek opposition groups were planning commemorative rallies outside the local office of the Organization for Security and Cooperation in Europe (OSCE) and the Russian consulate in Osh.
But after word of those plans got out, Kyrgyz authorities summoned organizers -- all of them Uzbek refugees -- to warn them against doing so.
Asylum-Seekers Warned
A small group of Uzbek opposition activists held a 30-minute protest outside the Osh office of the UNHCR on May 11. They were invited inside and given a letter discouraging "all Uzbek citizens seeking asylum" from holding any unsanctioned demonstrations.
UNHCR officials in Osh were not immediately available for comment.
The 1954 UN convention relating to the status of refugees says that "every refugee has duties to the country in which he finds himself." The document demands specifically that refugees conform to such countries' laws and regulations, "as well as to measures taken for the maintenance of public order."
The would-be organizers appeared to be heeding those calls. But Mukhtarov noted that not everyone heard about the cancellation, and people wanting to participate were trickling in.
Support From Kyrgyz Activists
"Today, May 12, people who wanted to join our protest have been coming to our temporary office since morning," he said. "It seems that many people planned to participate in the action. I was happy that many human rights defenders wanted to join and support us."
Mukhtarov said those hopefuls included rights defenders from Kyrgyzstan.
The Uzbek refugees are in a sensitive legal position. They called off not only today's planned rallies but also another set for May 13 in the border town of Kara-Suu, which hundreds of Uzbek refugees passed through last year.
"Unfortunately, we cannot hold a protest tomorrow because, according to Kyrgyz law, we don't have the right to stage political actions," Mukhtarov said. "According to Kyrgyz law and the UNHCR, refugees cannot participate in any political meetings or protests."
Mukhtarov and other organizers were summoned today to the Immigration Department in Osh. Mukhtarov said he expected authorities there to ask Uzbeks to sign letters pledging not to hold any political rallies as long as they are in Kyrgyzstan.
Andijon Refugees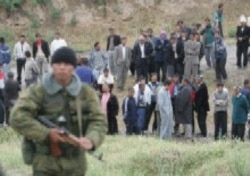 Uzbek refugees in Kyrgyzstan on May 19, 2005 (epa)


NO PLACE TO GO: More than 400 Uzbeks who fled in panic in the hours and days after troops opened fire on demonstrators in Andijon one year ago have been granted political asylum outside Central Asia. In limbo for weeks in Kyrgyzstan as they and the world tried to come to grips with the bloody events of May 12 and 13, they feared for their lives and the lives of family members as the official crackdown continued.... (more)
RELATED ARTICLES
Andijon Refugees In Romania Have Escaped Violence, But Not Heartache
Refugees In Romania Await Decision On Destination
Refugees Want To Return Only If Regime Changes


THE COMPLETE STORY: A dedicated webpage bringing together all of RFE/RL's coverage of the events in Andijon, Uzbekistan, in May 2005 and their continuing repercussions.
CHRONOLOGY
For an annotated timeline of the Andijon events and their repercussions, click here.