KARA-SUU, Kyrgyzstan; May 13, 2006 (RFE/RL) -- Isroiljon Kholdarov of the Uzbek opposition party Erk, now a refugee in Kyrgyzstan, was one of the organizers of today's rally. After police broke up the demonstration, he recounted what had happened.
"We held a small action some 50 meters from the Kyrgyz-Uzbek border to mark the Andijon events," Kholdarov said. "We recalled last year's Andijon events and that no one should forget what happened, and we demanded an end to the dictator [Uzbek President Islam] Karimov. For about 25 minutes we held up banners. About 60 or 70 people were there and people came from the Kara-Suu bazaar to read our banners. About 60 or 70 people more gathered around us and those who came from Uzbekistan to the bazaar also read our banners."
Members of Erk and other Uzbek opposition activists from the Birlik movement and Ozod Dehkonlar (Free Peasants) party organized the demonstration. All are now refugees in Kyrgyzstan who fled Uzbekistan in the wake of the Andijon events when the Uzbek government started a crackdown.
These opposition groups dispute the government's version of the Andijon events, according to which it was an attempt by Islamic militants to overthrow the government during which 187 people were killed when troops opened fire on protesters.
Despite Government, UN Warnings
The Kara-Suu rally was held despite warnings from Kyrgyz officials and local and international refugee organizations that the Uzbek activists should not hold any political rallies.
"We will return," said Jamshed Mukhtarov of the Ozod Dehkonlar. "Our action was stopped and Kyrgyz security forces warned us, and the [nongovernmental organization] Adolat and the UNHCR also warned us through official letters that if we demonstrated they would deport us or we would face administrative punishment. They told us this already and told us our lives were in danger. Therefore I ask you and the world to find out what's happening to us."
In the morning, leaflets appeared in Kara-Suu also calling on the Uzbek people not to forget what happened in Andijon last year. The leaflets did remind people at the bazaar about Andijon. There was no shortage of opinions about Andijon today in the stalls and at the tables in the bazaar.
"Poor people don't take up arms," one Uzbek trader said. "This was the people at the top, because the average person doesn't need power. For that, you need a good head and an ideology to rule. The powerful people couldn't share power. They got money for some kind of military things, but they took it for themselves."
Another young man said Uzbek media misreported the Andijon events, but he said that no one was fooled by those reports.
"For years now Uzbek television has been telling lies. In fact, it didn't happen that way," the young man said. "We didn't see it, but we heard about it. They tortured people there and shot people. And Uzbek television, as always, didn't tell the truth just like they don't tell the truth about what's happening outside the country and they never give information that contradicts the government."
Personal Tragedy
For one woman selling items at the bazaar, the Andijon events were a personal tragedy. She explained that her son was going to passport control in Andijon to pick up his father's passport. While her son was there someone threw a Molotov cocktail into the building and her son was burned.
"He went the passport control and was burned on his back, legs and an arm," she said. "For that, they put him in jail for four years. He is now in the Navoi prison."
The demonstration and leaflets succeeded in reminding the people at the Kara-Suu bazaar today about what happened last year. But no one believed there would be any significant changes in the situation across the border in Uzbekistan any time soon.
(Elmurad Jusupaliev of RFE/RL's Uzbek Service contributed to this report)
Andijon Refugees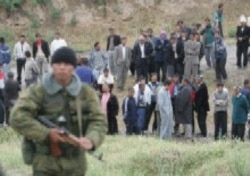 Uzbek refugees in Kyrgyzstan on May 19, 2005 (epa)


NO PLACE TO GO: More than 400 Uzbeks who fled in panic in the hours and days after troops opened fire on demonstrators in Andijon one year ago have been granted political asylum outside Central Asia. In limbo for weeks in Kyrgyzstan as they and the world tried to come to grips with the bloody events of May 12 and 13, they feared for their lives and the lives of family members as the official crackdown continued.... (more)
RELATED ARTICLES
Andijon Refugees In Romania Have Escaped Violence, But Not Heartache
Refugees In Romania Await Decision On Destination
Refugees Want To Return Only If Regime Changes


THE COMPLETE STORY: A dedicated webpage bringing together all of RFE/RL's coverage of the events in Andijon, Uzbekistan, in May 2005 and their continuing repercussions.
CHRONOLOGY
For an annotated timeline of the Andijon events and their repercussions, click here.