Bulgarian Parliament Approves U.S. Bases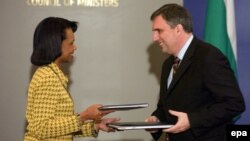 U.S. Secretary of State Condoleezza Rice and Bulgarian Foreign Minister Ivailo Kalfin signed the agreement to establish U.S. bases in April 2006 (epa) May 26, 2006 -- Bulgaria's parliament today ratified an agreement with the United States for the establishment of joint military bases in Bulgaria.
The 10-year deal gives the U.S. military the right to use two air bases, a training facility, and a military storage site.
Bulgaria will host up to 2,500 U.S. soldiers at a time, with numbers reaching up to 5,000 during troop rotations.
(AFP)