Russian Deputy Foreign Minister Aleksandr Alekseyev has said SCO members will sign an agreement aimed at stopping cross-border movement of people "implicated in terrorist, separatist, and extremist activities."
He said that the SCO summit plans also to create a joint database of separatist, extremist, and terror organizations -- a list that is bound to include Uyghur pro-independence groups.
The independence movement seeks to reestablish the Turkic Uyghur entity called "East Turkestan" in China's Xinjiang Uyghur Autonomous Region. East Turkestan was essentially made part of China in the 19th century, and officially so by communist authorities in 1955.
Placating China
Uyghur activists are blamed for a series of bombings and other violence in Xinjiang. The SCO moves appear designed to make it harder for separatists to find shelter in neighboring Central Asian states, some of which have Uyghur communities of their own.
"Placating the People's Republic of China to a large extent is quite a concern of the Central Asian republics, and they do have to keep one eye on the purse strings." -- Uyghur American Association spokesman
The Uyghur American Association spokesman in Washington, Ben Carrdus, says the Central Asian states are not keen to antagonize China by being seen to play host to Uyghur radicals.
"Placating the People's Republic of China to a large extent is quite a concern of the Central Asian republics, and they do have to keep one eye on the purse strings," Carrdus says.
Another analyst, Christian Le Miere of Jane's security journal "Country Risk," says Central Asia is indeed attentive to China's massive economic expansion.
"China is particularly concerned [to ensure] that there is stability on its western borders, and that there may be oil and gas reserves within Central Asia that it can utilize for its fast-growing economy," Le Miere says.
"And the Central Asian countries recognize, for their part, that China is a growing market and will begin to rival Russia in the next few decades for [dominance] of the sphere of influence in Central Asia," the analyst adds.
Repression, Harassment Of China's Uyghurs
As the political developments unfold at the Shanghai summit, there are reports of continuing Chinese action against Uyghurs. The Uyghur American Association says Tudahun Hoshun has been held since March on allegations of trying to "split the state."
The association says Hoshun was hung from a ceiling, beaten, and starved for three days because he did not memorize the jail regulations in Chinese -- a language he reportedly does not speak.
In another case, Chinese police were reported to have detained the three adult children of the president of the Uyghur American Association, Rabiya Kadir. Officials were quoted as saying they owe millions of dollars in taxes, but the move is being interpreted as a way of ensuring that the Kadir family did not speak with a U.S. congressional delegation that visited Xinjiang.
Kadir is a businesswoman widely regarded as an Uyghur success story until authorities accused her of possessing separatist propaganda. Kadir lost a seat on a parliamentary advisory body after she refused to condemn her husband, whom Beijing accuses of supporting Xinjiang independence. She now resides in the United States.
The U.S. State Department has expressed "deep concern" about the fate of the Kadir children, and said it had urged Chinese officials to look into the matter, and to secure their release.
China Exaggerating Uyghur Threat?
Spokesman Carrdus of the Uyghur American Association says there seems little to justify the "extremely high alert" maintained by the Chinese authorities in Xinjiang against the possibility of armed violence. He says little violence has been attributed to the Uyghur separatists over the years.
"There really does seem to be extremely little to justify the high, high state of alert which the Chinese authorities are on, when this alert means so many people are being detained arbitrarily -- [and] there are numerous, consistent, and [indeed] constant reports of torture, all being perpetrated in the name of terrorism awareness," he notes.
Carrdus says the Chinese have been "quick to rebrand" any sort of nationalist or separatist sentiments from Uyghurs as terrorism.
The same theme is taken up by the U.S.-based organization Human Rights Watch, which says in a statement issued today that some SCO member countries have magnified domestic dissent into terrorism, and used abusive means to combat it.
Human Rights Watch says the SCO has helped China gain international acceptance for its portrayal of Uyghur strife as inspired by, and linked to, international Islamic terrorism.
So China is eager to use the SCO to help stifle the simmering Uyghur discontent. But it is also using bilateral means to strengthen its hand against the separatists.
On June 10, Chinese President Hu Jintao received Kyrgyz President Kurmanbek Bakiev in Beijing. The two leaders agreed to crack down on extremism, and specifically on the "East Turkestan terrorist forces," so as to maintain regional peace and stability.
Hu signed a similar agreement in April with Turkmen President Saparmurat Niyazov.
China In Central Asia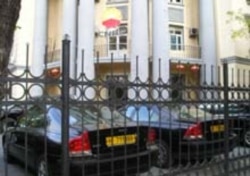 The Almaty,Kazakhstan, office of China's National Petroleum Corporation (RFE/RL)
BEIJING ON THE RISE:
The September 11, 2001, terrorist attacks against the United States prompted Washington to topple the Taliban regime in Afghanistan. At the time, many predicted the United States would gain a new foothold in Central Asia: new U.S. military bases appeared in Kyrgyzstan and Uzbekistan, U.S. foreign aid increased, and much U.S. attention was lavished on the region. Russia and China looked on warily. But the pendulum may be swinging back in Moscow's and Beijing's favor. China, especially, has expended great effort at winning friends in Central Asia and is becoming a force to be reckoned with
....(more)
RELATED ARTICLES
Turkmenistan-China Pipeline Project Has Far-Reaching Implications
Central Asia Looks To Fuel Asia's Economic Boom
The Geopolitical Game In Central Asia
ARCHIVE
To view an archive of RFE/RL's coverage of China, click here.

SUBSCRIBE
For weekly news and analysis on all five Central Asian countries by e-mail, subscribe to "RFE/RL Central Asia Report."