The new council replaces the widely discredited UN Commission on Human Rights, which earned criticism for allowing some of the world's worst human rights abusers, including Libya, Sudan, and Zimbabwe, to influence its agenda as members.
'Clean Break With The Past'
At the inaugural ceremony, Annan called on the new 47-member Human Rights Council to "make a clean break with the past." Annan added: "This council represents a great, new chance for the United Nations and for humanity to renew the struggle for human rights. I implore you, do not let this opportunity be squandered."
"Some critics see little value in what they deem as yet another series
of empty declarative gestures. It is incumbent upon all
members of the Human Rights Council to prove these critics wrong and
earn the trust invested in this new body." -- Arbour

Annan urged the council not to become politicized, unlike its much-maligned predecessor. "In the weeks and months ahead, as you descend into detail and wrestle with issues at the heart of the council's mandate, I urge you to keep constantly in mind the noble aims that brought you here," he said. "Never allow the council to become caught up in political point-scoring or petty maneuver."
UN High Commissioner for Human Rights Louise Arbour echoed Annan, and acknowledged doubts among some UN members -- notably the United States -- that the new council will be able to achieve more than the defunct commission. But Arbour urged the new organization to prove its critics wrong.
"Some critics see little value in what they deem as yet another series of empty declarative gestures," she said. "It is incumbent upon all members of the Human Rights Council to prove these critics wrong and earn the trust invested in this new body."
U.S. Stays Away
The United States is not a member of the new council and is participating only with observer status. Washington voted against the establishment of the council in its current form, saying the new body's rules were not strong enough to prevent human rights violators from getting a seat.
"Absent stronger mechanisms for maintaining credible membership, the United States could not join consensus on this resolution," U.S. Ambassador to the UN John Bolton said in March. "We did not have sufficient confidence in this text to be able to say that the Human Rights Council will be better than its predecessor."
Some say the fact that Cuba, Saudi Arabia, China, and Russia are among the countries that won seats on the Human Rights Council, despite their questionable rights records, confirms Washington's concerns.
A Task For 'Generations To Come'
Arbour, who gained fame as former chief prosecutor for the International Criminal Tribunal for Rwanda and the former Yugoslavia, said improving the dismal human rights situation in many parts of the world is no short-term project. But she said this was no reason to abandon the goal.
"Despite our growing global base of financial and human capital, increasingly sophisticated technology, and the experience of decades of international cooperation, poverty, inequality, violence, and repression continue to fuel threats both within societies and across borders," Arbour said. "We now know that combating and eliminating these threats and their consequences will be our task and that of generations to come."
She urged countries to involve civil society and make use of the resources provided by independent watchdogs and NGOs in defending human rights.
"Equally wise will be for this new body to tap into the enormous resources of expertise and experience that human rights defenders, nongovernmental organizations, and civil society as a whole can offer," Arbour said. "Their independent scrutiny ensures that accountability is not a mirage."
The new council will spend the rest of June devising its rules of procedure, including how it should carry out human rights reviews of all 191 UN member states.
Afterward, the body will hold at least three sessions per year, for a total period of no less than 10 weeks. The membership of the council will rotate regularly, with one-third of its seats coming up for election each year.
UN Human Rights Council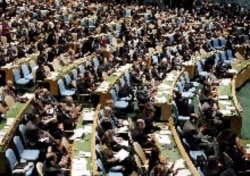 UN General Assembly delegates applaud the creation of the UN Human Rights Council on March 15, 2006 (epa)
A FRESH START ON HUMAN RIGHTS: The United Nations General Assembly on May 9 elected members to its new Human Rights Council, a step that reformers hope will help improve the United Nations' sullied record on defending human rights. The UN's old human rights watchdog -- the Commission on Human Rights -- had long been criticized for granting membership to countries with dismal human rights records, such as Cuba, Sudan and Zimbabwe.
Every member of the new body has to pledge to promote human rights. (more)
RELATED ARTICLES
General Assembly Votes To Create New Rights Council
Vote On Human Rights Council In Limbo Over U.S. Objections
At 60, UN Gripped By Debate on Human Rights Reform
SUBSCRIBE
For a regular review of civil-society developments throughout RFE/RL's broadcast region,
subscribe to "RFE/RL (Un)Civil Societies."