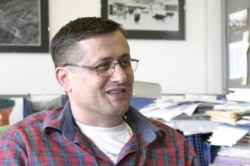 RFE/RL Georgian Service correspondent Jimsher Rekhviashvili (RFE/RL)
'EQUIVALENT TO TORTURE': On June 16, rferl.org spoke with JIMSHER REKHVIASHVILI, the author of this report. Rekhviashvili has worked for RFE/RL's Georgian Service for five years, initially as a stringer from the city of Rustavi and, later, in the Georgian Service's Tbilisi bureau. He specializes in reporting on social issues.
RFE/RL: How difficult was it for you to obtain information while working on this story?
Jimsher Rekhviashvili: In Georgia, generally, it is very difficult to get inside prisons and obtain information. I was lucky, as while working on the material, I learned that a delegation of international observers was about to visit the colony, so I arranged to go in together with them. Generally, if a reporter decides to visit a colony independently, he or she will face major bureaucratic obstacles. And even if the reporter succeeds in entering the colony, it will be extremely difficult to meet and speak with the prisoners.
RFE/RL: You, however, were able to speak to several inmates. Did you find them open toward you? How willing were they to discuss their problems?
Rekhviashvili: While preparing for the piece, I was determined to speak with the inmates, as I was convinced that without this the report would not have had much significance. Speaking on behalf of inmates is one thing; I thought it was important to give voice directly to the prisoners. Not all inmates are willing to speak to reporters, of course. However, there were many inmates who were really eager to talk. You could tell they missed sharing their problems with somebody. One of the prisoners with whom I spoke, a middle-aged man who was serving a sentence for murder was particularly repentant and emotional. You can hear him speak in the report, and it is clear that he is about to cry.
RFE/RL: You describe a spectrum of issues in your report. What do you think is the most pressing problem?
Rekhviashvili: The living conditions, which I witnessed and which are described in the report. I think are really equivalent to torture. The inmates have no personal space. They live in extremely claustrophobic conditions, where virtually no hygienic norms are observed. The food rations offered to them by the system are very poor. The inmates survive on food that their family members bring.
A more general, and extremely significant problem, is that in such environment, it is simply not possible to fulfill the main purpose of the punishment -- to prompt the person to think through their crime and repent. Prisoners are never alone. They are constantly surrounded by other people who observe their thoughts and actions. The system, in its present shape, provides only two options to the inmates -- either to become absolutely desperate and depressed or to turn into an even more aggressive person who harasses other prisoners. In other words, the system as it is now not only does not help prisoners to repent and develop, but it actually prompts people to bring out the worst in them.
RFE/RL: Your piece ends with a discussion of reforms that are under way in penitentiary system. To what extent, do you think, will this actually solve the problems?
Rekhviashvili: I think the current reform will bring about significant improvements. The Justice Ministry plans to replace barrack-based prisons with cell-type ones, and this, in turn, will be a positive step in several respects. Firstly, this will greatly diminish the power of criminal authorities as, once isolated, they will no longer be able to oppress and harass other prisoners, as is the case now. Secondly, the administration will be able to establish tighter control in such prisons. The inmates will have more personal space. With planned increases of funds, prisoners' diet should also improve. These changes, overall, should result in more humane environment, which will enable people to serve their punishment without having to lose their human dignity.
ARCHIVE
To view a complete archive of RFE/RL's coverage of Georgia, click here. To view the website of RFE/RL's Georgian Service (in Georgian), click here.


THE COMPLETE PICTURE: For a regular review of civil-society developments throughout RFE/RL's broadcast region, subscribe to "RFE/RL (Un)Civil Societies."