Guantanamo Supervisor To Become Top NATO Commander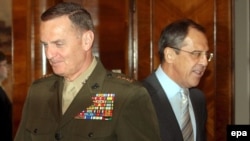 NATO's outgoing commander in Europe, General James Jones, pictured with Russian Foreign Minister Sergei Lavrov (file photo) (epa) July 14, 2006 -- NATO said today that U.S. Army General Bantz Craddock is to succeed General James Jones as the alliance's top commander in Europe.
Craddock is the head of the U.S. Southern Command, which operates the U.S. military prison at Guantanamo Bay, in Cuba.
He will succeed Jones as Supreme Allied Commander Europe (SACEUR) at a date yet to be determined.
(Reuters, dpa)