Annan told the Security Council that the civilians living in southern Lebanon and northern Israel can't wait for an end to the fighting.
"What is most urgently needed is an immediate cessation of hostilities for three vital reasons: first, to prevent further loss of innocent life and the infliction of further suffering; second, to allow full humanitarian access to those in need; and third, to give diplomacy a chance to work out a practical package of actions that would provide a lasting solution to the current crisis," he said.
But because of the difficulty of establishing a sustainable cease-fire immediately, Annan sought instead only a temporary cessation in hostilities.
Lebanon The Victim
The secretary-general emphasized that the government of Lebanon had no part in starting the fighting, which began when a Hizballah unit crossed into northern Israel and captured two Israeli soldiers.
Annan said the responsibility for starting the conflict rests squarely with Hizballah, whose "provocative attack on July 12 was a trigger of this crisis."
"It is clear that the Lebanese government had no advance knowledge of this attack," he continued. "Whatever other agendas they may serve Hizballah's actions which it portrays as defending Palestinian and Lebanese interests in fact do neither. On the contrary, they hold an entire nation [Lebanon] hostage [and] set back prospects for negotiation of a comprehensive Middle East peace."
The secretary-general said that while Israel had a right to defend its sovereignty, it shares blame for the carnage.
"Israel states that it has no quarrel with the government or the people of Lebanon and that it is taking extreme precautions to avoid harm to them," he said. "Yet, a number of its actions have hurt and killed Lebanese civilians and military personnel and caused great damage to infrastructure. While Hizballah's actions are deplorable -- and as I've said Israel has a right to defend itself -- the excessive use of force is to be condemned."
Annan said Israel has only damaged its own cause. Its operations may be weakening Hizballah militarily, he said, but it is also weakening the Lebanese government.
Immediate Action Needed
The secretary-general called for several steps to be taken immediately. First, he said, Hizballah must return the captured Israeli soldiers to their homeland. Second, the UN force in Lebanon must be expanded to keep the peace and help Lebanon improve its army.
Annan said Gaza shouldn't be left out of the picture, given Israel's military offensive there as well. "I am gravely concerned about Gaza," he said. "Palestinians there are suffering deeply with well over a hundred -- many of them civilians -- killed in the last month alone."
After Annan's remarks, Israeli Ambassador Dan Gillerman made it clear that his country wouldn't abide by the secretary-general's call for restraint.
"We will continue to do what we are continuing in Lebanon not just to protect Israel and not just to bring our boys home, but to make sure that this cancerous growth in the heart of Lebanon is excised," he said.
Earlier, the European Union called for a cease-fire in Lebanon, and offered a $12.5 million aid package for civilians affected by the conflict.
Russia also again called today for an immediate cease-fire, saying the Israeli offensive has gone "far beyond" an antiterrorist operation.
UN Peacekeepers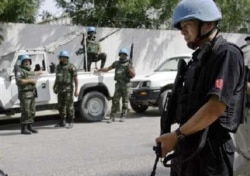 UN peacekeepers in Haiti in February 2006 (AFP)
MISSION
In cases in which international intervention in regional conflicts is deemed necessary, peacekeeping missions authorized by the UN Security Council provide legitimacy by demonstrating the commitment of the international community to address such crises.
MANDATE
UN peacekeeping missions are prepared, managed, and directed by the UN's Department of Peacekeeping Operations. The unique mandates of peacekeeping missions falls under the authority of the UN's Security Council and General Assembly, and under the command of the UN secretary-general.
MONEY
Funding for UN peacekeeping missions is provided by UN member states. All are legally obliged to pay a share under an established formula. The leading financial providers as of 2006 were: the United States, Japan, Germany, the United Kingdom, France, Italy, Canada, Spain, China, and the Netherlands.
MORE
All UN peacekeeping missions share the goals of alleviating human suffering and creating conditions for self-sustaining peace. Missions can consist of armed or unarmed military components, depending on their mandate, and various civilian tasks.
Military operations can include:
· Deploying to prevent the outbreak of conflict or the spillover of conflict across borders;
· Stabilizing conflict situations after a cease-fire in order to create an environment for the parties to reach a lasting peace agreement;
· Assisting in implementing comprehensive peace agreements;
· Leading states or territories through a transition to stable government, based on democratic principles, good governance, and economic development.
HISTORY
There have been 60 peacekeeping operations since 1948. Fifteen peacekeeping missions were in operation in mid-2006, employing more than 60,000 troops, 7,000 police, and over 2,500 military observers. Peacekeeping operations in 2006 were supported by uniformed personnel provided by 109 countries.
(source: UN Department of Peacekeeping Operations)
RELATED ARTICLES
Middle East: UN Mulls New International Force For Lebanon
Georgia: Issue Of Russian Peacekeepers Heats Up
UN: U.S. Presses For Peacekeeper Deployment To Darfur