Kyrgyz Premier Demands Fresh Corruption Probe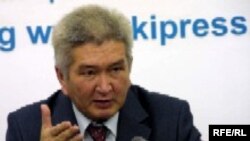 Feliks Kulov (file photo) (RFE/RL) July 24, 2006 -- Kyrgyz Prime Minister Feliks Kulov today asked the Prosecutor-General's Office to resume a probe into the alleged illegal sale of military equipment that reportedly took place under former President Askar Akaev's rule.
Kulov said the alleged theft could be responsible for the current shortage of weapons in the armed forces. He said he had already demanded that a probe be launched when he was vice president in the 1990s.
(Kabar, 24.kg, AKIpress)